It goes without saying that December is one FLIPPIN' FANTASTIC MONTH.
Not only can you eat your body weight in advent calendar chocolate in one sitting, but you can also wear the ugliest knitwear and burst into song at any given moment, AND NOBODY WILL JUDGE YOU.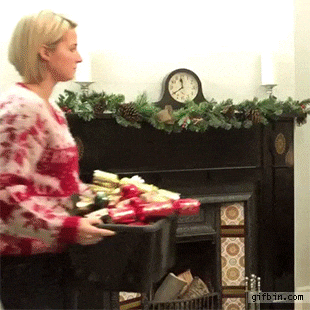 But while that's all fantastic, not even Christmas can top the excitement of hearing that the YouTube Rewind is ON ITS WAY. YASSSSSS.
Set for release on December 7 at 10 a.m. PST (that's tomorrow, people), it promises to be the biggest and best Rewind to date.
Ok, so in true YouTube style, this year's ad doesn't give much away.
But after last year's Rewind included faves like Dan & Phil, Zoella, Alfie Deyes, PewDiePie, Tyler Oakley, ||Superwoman|| and James Corden, we can only imagine who'll be appearing this year (we have our fingers crossed for Bethany Mota, LucyAndLydia, Velvetgh0st, Josh Pieters and Mark Ferris).
So that's the YouTubers covered, but what trends will we be seeing? 2016 has been JAM-PACKED with some seriously awesome viral videos.
QUIZ: WHICH MEMBER OF 5SOS OR THE TIDE SHOULD YOU DATE BASED ON YOUR FAVE ADVENT CALENDAR?
QUIZ: WHICH YOUTUBER ARE YOU BASED ON YOUR FAVOURITE PAIR OF CHRISTMAS SOCKS?
With that in mind, this year we think we'll be seeing Damn Daniel, 100 Layers Challenge, Pokemon Go, Dabbing, Bottle Flip challenge, Killer Clowns, Overused Memes Roast Yourself Challenge, Mannequin Challenge, Andy's Coming.
We have our fingers crossed for all of our fave YouTubers doing the mannequin challenge at the same time. Seriously though, how awesome would that be?
While nothing's set in stone yet (because, let's face it, YouTube Rewind is always one B-I-G undercover operation), we're confident in saying that the 2016 edition is going to be INSANE.
PERRIE EDWARDS' DOG DOING THE MANNEQUIN CHALLENGE IS HANDS DOWN THE BEST THING YOU'LL SEE THIS YEAR
ERR, HOW DID WE ALL MISS THIS DAN AND PHIL HARRY POTTER 'FILM CAMEO'?
Who or what do you want to see? Do you, like us want to see Dan and Phil giving the mannequin challenge a go? Or do you fancy watching Joe Sugg and Caspar Lee touring the UK on a massive Pokemon hunt? Perhaps you want to see Zoella trying her hand out at the 100 layers challenge. How about Bethany Mota dabbing it out?
Leave your ideas below in the comment box – we'd love to hear them, and the more weird and wonderful, the better.