There's no denying that the world is a very weird place to live in right now. We've got one giant, soulless satsuma as President, and everything's just plain riddikulus.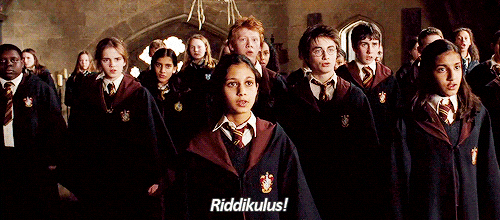 If you ask us, it's all starting to feel like a scene out of Harry Potter. It's like we're waiting for Voldemort to strike at any moment, but we're not quite sure when it'll happen (although, to be fair, we reckon that Trump's more like Umbridge than Voldemort – she's definitely the most evil of the pair).
But things aren't quite as miserable as they seem, because Dumbledore's Army has manifested IRL to save us all from Trump's dangerous misogynistic rule. THANK HEAVENS.
Last weekend saw Women's Marches take over some of the world's biggest towns and cities, and boy were they amazing.
---
Fans are furious that Taylor Swift didn't attend the Women's March
What marching in the Women's March taught me about society and my voice
This is why Lauren Jauregui is the type of pop star the world needs in 2017
---
Not only were ACTUAL GINNY AND HERMIONE (aka Bonnie Wright and Emma Watson) marching, but the entirety of Dumbledore's Army seemed to be out fighting for women's rights – just like our fave headmaster would've wanted.
GINNY AND HERMIONE AT THE #WomensMarch THIS IS WHAT I'M LIVING FOR pic.twitter.com/g3AlnjavTk

— cast of harry potter (@castofhp) January 21, 2017
Seriously though, can we just appreciate how magic this is:
IM LIVING #WomensMarch pic.twitter.com/ZMsijVr9R6

— cast of harry potter (@castofhp) January 21, 2017
For those who aren't familiar with Harry Potter, it might seem like an odd reference to make at a march for feminism. But the Harry Potter books are filled to the brim with fantastic feminist quotes like this:
"We're all human, aren't we? Every human life is worth the same, and worth saving." 
Thanks to JK (and Hermione), it's no wonder so many Potterheads are feminists, and that really shone through at the marches.
Need more convincing? Here are some of our fave HP inspired signs:
BERNIE PATRONUM
by far my favorite. @BernieSanders @People4Bernie #WomensMarch #harrypotter pic.twitter.com/5RrN4Rqt28

— Rhianon (@rhianonmorgan) January 22, 2017
DESTROY TRUMP'S HORCRUXES
Best sign ever cc: @ohwitchplease @jk_rowling #HarryPotter #WomensMarch pic.twitter.com/GYivrZ2Q6S

— Amy Berryman (@_amybear) January 22, 2017
Dumbledore's Army in full force
#HarryPotter at the #WomensMarch ⚡️ pic.twitter.com/XoYUM4DeGL

— Laura (@laurampxd) January 22, 2017
We need more Hermiones!
She knows what's up. #WomensMarch #boston #hermionesoftheworld #HermioneGranger #HarryPotter pic.twitter.com/P9NuAwzztE

— DIIN (@DiinSilversmith) January 21, 2017
#GirlPower
Sign game strong!! Couldn't be more proud. #WomensMarch #HarryPotter pic.twitter.com/B9svldMaRy

— Maisa (@Mimi1491) January 22, 2017
The Chamber of Trump has been OPENED
Had a magical day @womensmarchlon #WomensMarch #HarryPotter @TheHPAlliance @MuggleNet @jk_rowling @EmmaWatson @Evy_Lynch pic.twitter.com/DqM7dwxU41

— AlexBertulisFernande (@alexbertanades) January 22, 2017
Nope, no it wouldn't
We are the next generation of Dumbledore's Army! #womensmarch #womensmarchnyc #harrypotter https://t.co/u5HcOeReeq pic.twitter.com/7LqdOdpVxI

— Claire Wind (@got_claire) January 22, 2017
Can we? OFC WE CAN!
Some of my favorite signs from the #womensmarch ⚡️I also got recruited #Dumbledoresarmy #HARRYPOTTER pic.twitter.com/gHOhuWBnVs

— lizette guzman (@LizzieGuz) January 22, 2017
Dumbledore for President?
Ready for the Women's March – Dallas! #DumbledoresArmy #WomensMarch @jk_rowling #harrypotter pic.twitter.com/ntfaxoWkby

— Valerie Garcia (@valgordongarcia) January 21, 2017
How awesome are they? If you've got a sign from the Women's Marches you want to show us, make sure to send a picture our way. Just tweet us @maximumpop with your snap – we'd love to see!