In times of great need Demi Lovato descends to earth and blesses us with her keen political eye, continuous fight for equality and some bangin' tunes to dance around to. Piers Morgan might reckon celebs should mind their own business and stay out of politics but Demi is here and she's ready to slay every ignorant fool in her way YASSS.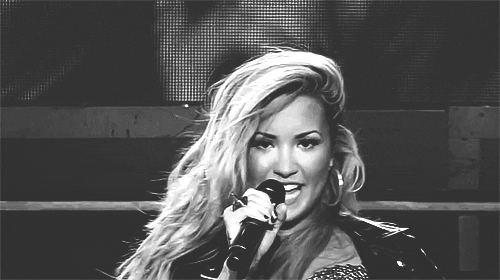 We'll sure be staying woke for the summer this year – thanks Demi.
After our beloved new President Donald Trump took to Twitter again this week for another of his infamous rants Demi Lovato decided she'd just about had enough of seeing all his negativity plastered across the interwebz and decided to directly speak out about it:
@realDonaldTrump how about you stop dividing our country into two parties and unite us like a president should

— Demi Lovato (@ddlovato) January 31, 2017
I'm just sad that we can't all come together regardless of sex, race, religion, political party.. etc. we need to now more than ever.

— Demi Lovato (@ddlovato) January 31, 2017
---
Does Donald Trump's #MuslimBan spell disaster for Zayn's career?
Was Harry Styles' tweet about The Woman's March enough or are you disappointed he didn't participate?
QUIZ: Are these Donald Trump or Katie Hopkins quotes?
---
Her fans flocked to sing her praises in the replies below but not everyone was happy with her expressing her opinions:
@ddlovato @realDonaldTrump He didn't divide it was already divided when he took off u lala land living people need 2 shut up & move on!

— Alicia Kemp (@AliciaKemp14) February 1, 2017
@ddlovato it's your intolerant party and Hollywood dividing the country, stick to singing young lady!!!

— nanny m. (@nancybird22) February 2, 2017
Of course, a little negativity can't drown out the overwhelming positivity:
@ddlovato i love when you use your voice to change the world and combat men's like him! That's what we need today!

— Vini (@lovatunt) January 31, 2017
@ddlovato thank you for it, you have no idea how important this is for everyone

— isabella 8 days (@twopiecees) February 1, 2017
@ddlovato thank you for using your voice for things that actually matter

— ✨ (@goldenvato) February 1, 2017
Keep slayin', Demi.
In today's society it's important to remember that everyone has a voice, whether they're famous or not, and has every right to exercise their free speech both offline and online. Just because Demi is an ultra cool babe with a fantastic voice doesn't mean she isn't also woke, politically minded and intelligent enough to express carefully considered criticism.
https://www.instagram.com/p/BP5pEADAddM/?taken-by=ddlovato
Do you think Demi and the rest of Hollywood should keep standing up and fighting for what they believe in or is about time they sat down and kept quiet? Let us know in the comments below.