Y'know the bit when Dumbledore cancels exams in Harry's second year? Ofc you do. Be honest – how often have you wished that would become a reality? Every month? Every week? EVERY DAY?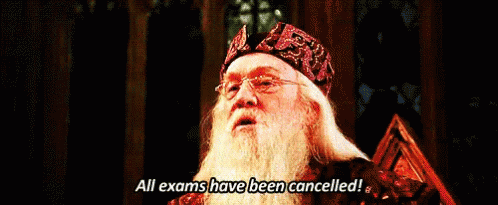 Realistically, the chances of exams *actually* being cancelled are slim to none – unless you're willing to set a humungous bloodthirsty reptile loose in your school, that is.
Disclaimer: we do not advise, nor do we encourage this behaviour. So if you're not willing to go to Voldemort-esque lengths to get exams cancelled, what should you do? The answer's simple – ask JK Rowling how best to absolutely rock at the whole academic thing, obv.
There's no denying that JK is super smart, so we're willing to bet that her words are the creme de la creme when it comes to giving life/school advice.
That said, it was a pretty natural decision for us to put some of her best quotes into a tiny little bundle of Maximum Pop! joy for all to see.
NEWSFLASH: You officially don't need to be a wizard to go to Hogwarts any more
JK has FINALLY answered the big question on who's the lead of the next Fantastic Beasts films
6 actually life-changing volunteer opportunities for teens
With these golden nuggets of JK advice, not only will you ACE school, but you could also end up ruling the world. Who knows where life could take you with one of the world's most influential women on your side?
1. There is an expiry date on blaming your parents for steering you in the wrong direction; the moment you are old enough to take the wheel, responsibility lies with you.
As much as we hate to tell you this, JK kind of has a point. Yeah, your parents can help you with school here and there, but ultimately it's up to you to get as much out of it as you can. While exams and coursework can be pretty crappy, they also provide you with a chance to show just how awesome you are.
So if you want to give yourself the best possible chance in life, put as much effort in as you can. No matter what grades you get, you'll have succeeded as long as you've put 100% into the learning process. Trust us on this.
2. We do not need magic to change the world, we carry all the power we need inside ourselves already: we have the power to imagine better.
While exams are important, they're only a teeny-tiny part of school. The education system is also there to help broaden our imaginations and develop a moral compass, and it's really important to remember that. Succeeding at school is about more than passing exams, and if you feel like it's helping you to become a better, more well-rounded person, you're acing it already.
3. It is impossible to live without failing at something, unless you live so cautiously that you might as well not have lived at all, in which case you have failed by default.
NEWSFLASH: FAILURE IS NOT A BAD THING. It might seem rubbish at the time, but who knows what could happen because of it? We're not saying you can just fail at everything and become an automatic millionaire – that'd be unrealistic; but what we ARE saying is that acting on failure can present some seriously epic opportunities.
We all know that JK didn't just springboard to success – she had to work long and hard to achieve her dreams, and look at her now! Yeah, it sounds cliche, but that could legit be you one day. As long as you learn from your failures and take action to make sure the same things don't happen again, you'll be absolutely fine. We know it.
4. "Your qualifications, your CV, are not your life, though you will meet many people of my age and older who confuse the two."
Don't get us wrong, qualifications and CV are important life factors, but you should NEVER let them define you. You might spend your whole school life being told that what you have on paper will shape your career, but ultimately, it won't.
Employers don't just look at grades and academic achievements. They want to see that you're thirsty to learn more about the world. They want to see that you're a kind person who can properly judge situations. They want to know that you're keen to meet new people, discover new places and learn new skills. Of course, you can learn some of these things in school (and should definitely take every opportunity given to you to do so), but ultimately, it's only a small part of a far bigger story.
5. Never be ashamed! There's some who'll hold it against you, but they're not worth bothering with. 
If you feel strongly about something, don't be afraid to shout about it. If people disagree with you, SO WHAT? You take that belief and you run with it – you never know where it might take you.
Got any great school advice you need to share? Leave a comment below and let the whole world benefit from your wisdom!