We adore Dodie Clark. Talented, individual, cute and super pretty.
She's always been pretty honest with her followers about her personal life and mental health, which we totally love her for. She's educating us and entertaining us with her beautiful singing and cute personality at the same time. What a babe.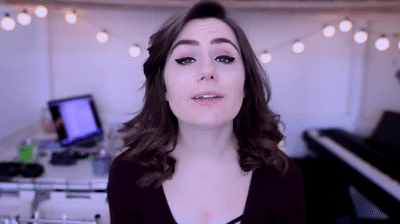 Last year, Dodie spoke about suffering from "depersonalisation". She describes it as feeling like she's "not here". She feels unfamiliar with everything and has sometimes felt drunk and hasn't recognised herself at times. Sounds pretty scary, doesn't it?
Watch her video below. It's about time we all understood this condition.
As Dodie describes, sufferers can feel they're separated from their own minds and bodies. Sufferers have described is as though they're watching themselves in a movie from a distance.
In terms of medication, NHS Choices say:
"There is no medication to specifically treat dissociation, although medication may be prescribed to treat any depression, anxiety and insomnia."
It doesn't end with the Women's March! 7 ways you can continue the fight for gender equality
QUIZ: Find out if you're a feminist based on your favourite Harry Potter character
Different types of therapy can also help relieve the symptoms of depersonalisation.
Want to know even more? Here are some other YouTubers' experiences.
Do these symptoms sound familiar? Don't panic, seek professional medical help as soon as you can.
How proud are you of Dodie for speaking so honestly and openly? Let us know in the comments below!