In this weird old world there are several things which are a good match: pancakes & Nutella, Ron & Hermione, Little Mix & leotards, the Snapchat dog filter & our faces, pumpkin spice & lattes.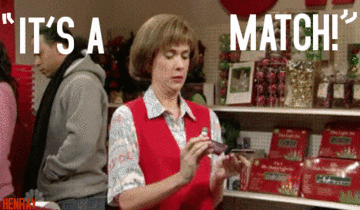 But there are also several things which aren't a good match: Trump & walls, Trump & Presidency, Trump & his own Twitter account, Trump & unlimited fake tan supplies, Trump & any tiny position of power.
But who would you match Harry Styles with? Louis Tomlinson? Probs. Nick Grimshaw? Maybe. Yourself? Definitely. Ed Sheeran? UM…
---
QUIZ: Are you more Harry Styles or Harry Potter?
QUIZ: What % Harry Styles are you?
QUIZ: Are you more likely to be BFFs with Ashton Irwin or Harry Styles?
---
They may seem like an unlikely pairing, but rumour has it that Ed Sheeran and Harry Styles *could* be collaborating together in a duet at tonight's BRIT awards.
Ever since Ed revealed that he'll be singing with a 'special guest' at the awards, the world has been speculating like wildfire about who said 'special guest' is.
And then this happened…
Speaking in an Instagram live interview, Ed admitted that he has heard a couple of Hazza's new songs – and he thinks they sound AWESOME.
UPDATE || Ed Sheeran said he's heard Harry's music and said that "it's great" on IG live today!

(© TheHarryNews)

— 1D Updates! (@OfficialWith1D) 21 February 2017
He also seems to have a pretttttyyy good idea as to when Hazza's new material will be released…not that he was about to give anything away.
UPDATE || Ed was also asked if he knew when Harry's music would be released & he said "maybe"!

— 1D Updates! (@OfficialWith1D) 21 February 2017
Sigh.
That's lead the Twittersphere to speculate whether the pair will be duetting at tonight's ceremony.
GOOD NEW: @edsheeran collaborating with @Harry_Styles
ME: UGH, MAH BOYS!

— Cherry Cuenco (@biersackcherry) 22 February 2017
I really hope @edsheeran you bring @Harry_Styles on Stage with you ♥️ #brits

— ᎧྀᎿᎧᏣᏦᎻᎧᏞᎷ⚓ᎧྀᎩᏁᎠᎡᎧᎷᏋ (@FOOLSxGOLD87) 22 February 2017
please @edsheeran @Harry_Styles https://t.co/1pSxbRgePl

— jenna (@pnwjenna) 22 February 2017
if the rumour is true that harry styles is performing with ed sheeran tonight on the brits i think i will actually stop breathing

— sarah (@sarahmaguire06) 22 February 2017
HOW ARE Y'ALL STILL BREATHING PROPERLY WHEN ED SHEERAN IS PERFORMING WITH HARRY STYLES TONIGJT

— lïv (@fairllylocaI) 22 February 2017
Oh, and as if that's not knicker-wettingly exciting enough, people are also speculating that ONE DIRECTION WILL BE REFORMING AT THE BRITS. OHMYGODCANNOTBREATHENEEDTOSITDOWN.
Louis is BUZZING
UPDATE || A fan who met Louis today asked Louis is he's excited for the #brits and he said "-yes!! I'm buzzing"!

— 1D Updates! (@OfficialWith1D) 22 February 2017
WE WANT ONE DIRECTION #BRITs

— mel / it ain't me (@smileofpaynee) 22 February 2017
I WANT AN OT4 REUNION AT THE BRITS #VideoLove One Direction

— IDIOT | m loves j (@MurkOfficial) 22 February 2017
PSA- If One Direction All Show Up To The Brits Together, My Twitter Will Be Popping Off.

— SJN (@samaanthaajo) 22 February 2017
Now we just need to wait and see if the boys turn up together. If they do, we will quite possibly  most certainly lose our TINY LITTLE MINDS. OMG.
For now we'll just have to wait and see if One Direction reform/Ed Sheeran duets with Harry/Harry releases some of his solo material – but if we're honest, we're not sure we can take this stress much longer.
Think you REALLY know Harry Styles? See if you can tell which weird facts about him are true, and which are false.