Your nails can tell you a lot about your health. Dry, brittle, broken, or discolored nails are all signs that something's not right. To keep your nails looking your best, here are 6 easy tips.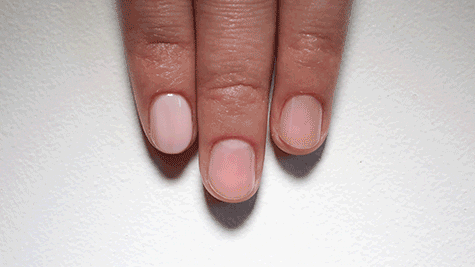 1. Leave your cuticles alone
A lot of top nail technicians and beauty gurus will tell you that cutting or pushing your cuticles is a big no-no, and they're right. No matter who does it or with what tools, harming your cuticles can lead to a whole world of problems: dryness, bleeding, swelling, or worse—infection. The best thing you can do? Keep them moisturized and just leave them be.
TRY: Sally Hansen Vitamin E & Cuticle Oil
2. Buy the right hand cream
Find a hand cream designed for both hands and nails. It'll do double duty, both moisturizing your hands as well as your cuticles and helping strengthen the nails themselves.
TRY: Neutrogena Norwegian Formula Hand & Nail Cream
3. Use a non-acetone varnish remover
Acetone is super drying and can lead to brittle nails prone to breaking. When taking off your varnish, reach for a remover without acetone that's designed to strengthen nails instead.
TRY: Cutex Nail Varnish Remover
4. Always use a base coat
When painting your nails, a clear base coat is the barrier between you and the varnish color. Base coats help stop staining, and they can also be loaded with good ingredients to help nails stay strong.
TRY: Essie Grow Stronger Base Coat
5. Wear gloves and sunscreen
Whether you're washing dishes or just walking outside in the cold, a pair of gloves will protect your nails (whether bare or painted) from the elements. And when you have bare hands outside, don't forget a layer of sunscreen on your hands as well as the rest of your body.
6. Give your nails a break
If you're a manicure addict and jump from color to color, it's good to let your nails go naked once in a while. Give them a chance to regrow properly without anything on top of them, and they'll grow stronger and healthier and be ready for your next mani choice.
And don't forget to eat the right foods for healthy nails (and skin and hair!).