"I am a bisexual Cuban-American woman and I am so proud of it."
Lauren Jauregui did something pretty brave this morning and we are seriously proud of her.  There's been a lot of speculation around her sexuality on social media recently (what happened to pop stars having the privacy they ask for?!) but today, Lauren came out as bisexual in an open letter to Donald Trump.
The letter is directed at Trump's supporters in hope of educating them about his political policies and how they affect women like her and other Americans.  It's so well written too, girl's got smarts! Read it here.
Harmonizers around the world are showing Lauren loads of their support and it is legit the cutest thing ever.
So so proud of you. I can't stop thinking about it gave me hope and courage. Thank you for writing this. I love you so. @LaurenJauregui

— 💋 (@camrenvine) November 19, 2016
I'm so proud of you, @LaurenJauregui . You have a beautiful mind, and such a bright and kind soul. Never stop being you

— Ashley Ippolito (@ashleyippolito) November 19, 2016
Not only Harmonizers, but some celebrities have been also been celebrating Lauren's courage.
So impressed by @LaurenJauregui

It's bloody hard to stand up to the nasty. We all need to do it cos we all make a difference #ThatsMyGirl

— Olivia Jones (@ThatOliviaJones) November 19, 2016
A massive thank you to @laurenjauregui for sharing her brave, honest & articulate open letter… https://t.co/yPLnCaJhQZ

— Brian Friedman (@brianfriedman) November 19, 2016
Bravo @LaurenJauregui so proud of you ❤️✨

— Camila Cabello (@camilacabello97) November 19, 2016
Isn't this the most badass way to come out? We just fell in love with her and Fifth Harmony even more… we didn't think it was possible!
Overwhelmed by love, thank you guys❤️😊❤️

— Lauren Jauregui (@LaurenJauregui) November 19, 2016
Lauren is so brave to have shared her story with the world and we couldn't be prouder. It's so important for young people to speak their mind and get involved in politics. Hopefully this will encourage even more pop stars to have their say! Lets's just hope there's no shade, like when Jade Thirlwall aired her views…
Keep slaying girl, self-love is the best love!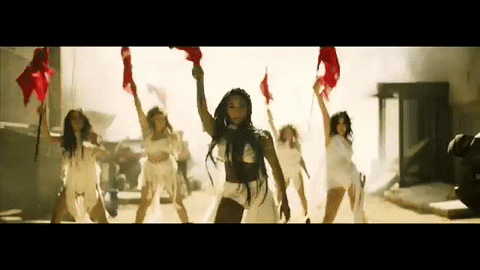 How proud are you of Lauren? Let us know in the comments below.