Harry Styles is the ULTIMATE babeoid. There's no questioning his babeness – it's just a widely renowned fact (if you have a problem with it you can jog the eff on, pal).
Nope, even walrus teeth can't deter our undying love for Haz.
And just when you thought he couldn't get any better, he's gone and announced he'll be releasing solo music. WHAT A TIME TO BE ALIVE.
Just think how wonderful that'll be. You can listen to it in a candlelit bath, on a road trip with friends, while you're falling asleep, when you're fantasising over Harry falling in love with you and then asking you to elope to Gretna Green for the world's cutest wedding. Too far? Nah.
---
QUIZ: Are you more Harry Styles or Harry Potter?
QUIZ: Is Harry Styles your soulmate? Find out in 3 short questions
QUIZ: What % Harry Styles are you?
---
Before now, we thought it'd be a million lightyears until we saw Harry Styles' new solo music (he is, after all, busy becoming a big superstar actor). HOWEVER, it turns out that we were wrong with a capital 'W'.
But how do we know this 'top secret' info? How do we know that Harry's album is set to drop a lot sooner than we thought? WELL, earlier this week, Sony Music's CEO, Rob Stinger, spoke to Billboard about Hazza's upcoming solo career, and what he said had us all SERIOUSLY excited. In the interview, Rob said:
We're close and we're very excited.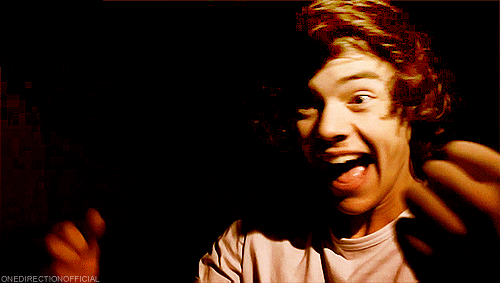 Yep, that's how we feel too, Harry.
And that's not all, because Mr. Stinger continued:
We have a record we're incredibly excited about and it's not far away from being ready. We obviously want everything to be beautifully done, because we think he's here to stay. Harry has stepped up with the vision of someone who's authentic.
Okay, this is too much. We're about to be graced with a beaut Harry Styles track but we don't know anything else – WHY DO THIS TO US? WE CANNOT HANDLE THIS KIND OF SUSPENSE. We need a sit down.
Fortunately, you lot are finding this level of excitement just as wee-inducing as we are:
Looking forward to hearing this @Harry_Styles record!

— Ollie Green (@OllieGreenMusic) 11 February 2017
@Harry_Styles I can't wait to see what your solo music will be like. 🙈😊

— ♡ (@songwriterniaII) 12 February 2017
I can't even express how excited I am for @Harry_Styles debut solo album. I just have such a good feeling about it.

— M. (@soimmicaela) 12 February 2017
OMG Harry Styles' solo music is coming out soo soon! I AM SOO EXCITED!!! Ahhhhh!!!!

— Helene (@helene_bergin) 12 February 2017
Rumour also has it that Harry's solo debut will be happening at this year's Grammys – WHICH ONLY SO HAPPENS TO BE TAKING PLACE TODAY. *SQUEAL*
Rumor has it that One Direction's @Harry_Styles will be debuting his solo material at the #GRAMMYs 🎉🎉🎉

— asmiatunallia (@altunaltunzs) 12 February 2017
Now the wait is on, and all we can do is sit down, treat ourselves to a Kit-Kat and watch the Grammys live stream to see whether the rumours are true. We're seriously hoping they are!
Oh, and why not take this quiz to find out how likely you are to marry one of the boys? You'd be a fool to miss out…just saying.