Queen Elizabeth II is by far one of the most kick-ass women on the planet and she just got even cooler.
Yesterday, she became Britain's first ever Monarch to celebrate their Sapphire Jubilee, which means she's been on the throne for over 65 years. And she ain't budgin' anytime soon!
The queen decided to keep this one pretty low-key and tbh we can't blame her. She's done some amazing stuff over the past 65 years and has more than earned her status as a world-renowned female boss:
---
QUIZ: Which queen from 'Reign' are you?
11 YA queens that should be running the country
---
1. When she photobombed these hockey players
SELFIE GOALS, TBH.
Ahhh The Queen photo-bombed our selfie!! 😄 👑 #royalty #sheevensmiled #amazing #Glasgow2014 @Hockeyroos @AusComGames pic.twitter.com/ZMtHYFUqHk

— Jayde Taylor (@_JaydeTaylor) July 24, 2014
2. When she fired this machine gun

How on Earth does she look so graceful?
Queen Elizabeth II firing a machine gun (this is real and amazing) pic.twitter.com/9HK16d7N

— Tim Stanley (@timothy_stanley) May 31, 2012
3. When she was literally all of us when we're #done in this gif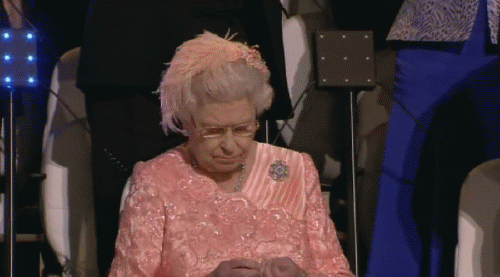 4. When she "skydived" at the 2012 Olympic games
5. When she looked comfy AF driving
Who doesn't love a comfy hoodie?
the queen wearing a hoodie whilst driving a range rover she keepin it 3Hunna pic.twitter.com/f8iK3wpKlV

— Sexual Amala (@DAdeoshun) October 18, 2014
6. When she was a mechanic in World War II
The Queen wasn't afraid to get her hands dirty.
7. When she wore these sick shades
8. When Justin Trudeau tried to woo her
Still breaking hearts at 90 years old
On the contrary, you are forever young. I was honoured to toast your lifetime of service tonight. https://t.co/xcXGiSj6OT

— Justin Trudeau (@JustinTrudeau) November 27, 2015
9. When she looked gorgeous shaking hands with Marilyn Monroe
10. When she had the coolest wedding cake ever
Where can we get one of these?
11. When she totally slammed sexists

#GirlPower!
"[On being criticized for her serious expression:] I simply ache from smiling. Why are women expected to beam all the time? It's unfair. If a man looks solemn, it's automatically assumed he's a serious person, not a miserable one."
12. When she wore yet another pair of cool sunglasses
13. When she met Lady Gaga
A queen with a kween.
Historical Meetings Moments pt.3

Lady Gaga share hands with the Queen Elizabeth II pic.twitter.com/9c7fhuTOPa

— 💫 (@wetmatchxx) April 10, 2014
14. When she was absolutely adorable in this gif
15. When she nailed her French in this vid
Can she record our voicemail, please?
16. And, of course, when she jokes about her age in this video
17. When she graced the cover of Vanity Fair
With her corgis!
Which epic Queen Elizabeth II moment is your fave? Let us know in the comments below.