Love him or hate him (as if), there's no denying that Zayn Malik is an absolute GOD. He's talented, beautiful, and he seems to make Gigi super happy — although that's hardly surprising, we know.
To be honest, at this level of perfection, we're starting to wonder whether he's really even human, and not some alien from outer space.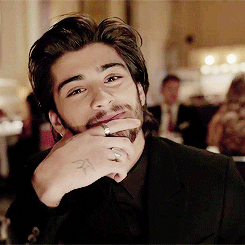 But Zayn has just confirmed his human credentials by getting involved in a *seriously* lovely project — proving that his heart is as big as his eyelashes are long.
Last week, Zayn took the reigns of The British Asian Trust's first public appeal, 'Give a Girl a Future'.
The appeal, which launched last month, has been set up to raise funds to support girls in South Asia, by providing them the essential skills and opportunities needed to secure a sustainable livelihood.
Zayn has also been getting behind the campaign on Facebook and Twitter:
Support @britishasiantst's #giveagirlafuture by texting BAT to 70025 & donate £5 .. @DFID_UK will match your gift https://t.co/WDTr339cym

— zayn (@zaynmalik) October 11, 2016
Support The British Asian Trust's #giveagirlafuture by texting BAT to 70025 & donate £5 .. DFID – UK Department for International Development will match your gift http://zayn.at/GiveAGirlAFuture

Posted by Zayn on Tuesday, 11 October 2016
On his official page for the appeal, Zayn writes:
"You will let girls know that someone believes in them.
You will give them the chance to learn.
You will help girls learn skills, such as producing beautiful embroidery, computer literacy and mobile repair. What's more, you'll help them to set up in business, and market what they do."
So not only is Zayn wonderful, but he's also an ambassador for women's rights.  Seriously, can he get any more amazing?
All funds raised before 7th December by the 'Give a Girl a Future' appeal will see every £1 donated matched by the UK Government. These donations will support girls, women and their families across Pakistan in livelihood projects.
If you ask us, that sounds like one seriously worthwhile project.

ZAYN MALIK HAS JUST LANDED HIS BIGGEST FASHION GIG YET AND IT'S ALL THANKS TO GIGI

OMG! ZAYN WEARING THIS HARRY STYLES INSPIRED JACKET WILL GIVE YOU ALL THE FEELS
To find out more about the project, head to britishasiantrust.org, where you'll find loads more information about what it's all about.
And in the meantime, don't forget to leave a comment below, and let us know what you think about the project and Zayn's involvement! As always, we'd love to hear your thoughts.