WOW! @girllondon333 @aqsawag @HIGHGIENIC @kelliec3 @stxfii your boards are amazing!
'The Divergent Series: Insurgent' has arrived in cinemas TODAY and to celebrate we are giving you the chance to win some AWESOME Insurgent goodies!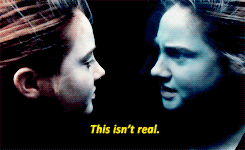 All you have to do for your chance to win a goodie bag containing an active band, hoodie, Insurgent book and Divergent DVD is use Pinterest to create YOUR Insurgent look!

Gain your inspiration from the factions – monochrome from Candor, hues of blue for an Erudite look, all black for Dauntless, subtle shades of grey for Abnegation or reds and oranges for Amity – or simply get ready to defy reality with an outfit that's ready for action!

Create a public board on Pinterest and title it 'Insurgent' and then put together your Insurgent look by pinning the items to the board.
Then all you have to do is tweet @maximumpop a link to your board using #InsurgentLook. Remember to follow us so we can DM you if you win!
FIVE of our favourites will win a goodie-bag!
THE DIVERGENT SERIES: INSURGENT IS IN CINEMAS NATIONWIDE NOW!
INSURGENT, the next gripping action-adventure in the blockbuster DIVERGENT franchise, raises the stakes for Tris as she searches for allies and answers in the dystopian ruins of a futuristic Chicago.   
Tris (Shailene Woodley) and Four (Theo James) are now fugitives on the run, hunted by Jeanine (Kate Winslet), the leader of the power-hungry Erudite elite. Racing against time, they must find out what Tris's family sacrificed their lives to protect, and why the Erudite leaders will do anything to stop them.  Haunted by her past choices but desperate to protect the ones she loves, Tris, with Four at her side, faces one impossible challenge after another as they unlock the truth about the past and ultimately the future of their world.
Terms and Conditions
Competition closes at Midday Thursday 26th March
Open to UK residents only
Entrants must be over the age of 13
Prize for five winners is one The Divergent Series: Insurgent goodiebag. Each goodiebag contains ONE active band, ONE hoodie (size not specified), ONE Insurgent book (paperback) and ONE Divergent DVD
The winners will be selected at the discretion of the editor and no correspondence will be entered into
The name, email address and contact number of the one winner will be requested for prize fulfillment and will be passed to a third party provider for prize arrangement.
Winners will be notified by Twitter Direct Message and their email and postal address requested
The winner must respond accepting the prize by 6pm on Monday 30th March. Failure to respond by this time will result in their prize becoming void and the editor will have the option to pick another winner from the pool of entrants
In the unlikely event the goodie bag or some of the contents are discontinued a similar model to the same value will be provided
There is no cash or other alternative to the prize stated and the prize is not transferable and no part or parts of the prize may be substituted for other benefits, items or additions
By entering, all entrants consent to the use of their personal data by the Promoter for the purposes of the administration of this prize draw and any other purposes to which the entrant has consented
By entering, the winner agrees to take part in reasonable post event publicity and to the use of their names and photographs in such publicity
The Editor's decision is final and binding on the entrants. No correspondence will be entered into