Taylor got a long list of Jumbotron dance moves.
Fresh from her hilarious skits on the Saturday Night Live 40th Anniversary special, Tay, breathtaking as usual, joined Jimmy Fallon last night to help him celebrate his one year anniversary as host of The Tonight Show.
During their lovely chat Jimmy was a little sad, telling Taylor he gets a bit upset watching her having a dance party/rage fest at all the award shows.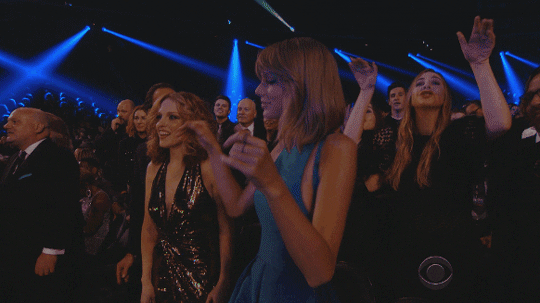 "I'm sorry. I forgot about that being our exclusive thing," Swift said.
Jimmy shared a secret with the crowd: Taylor and Jimmy were famous Jumbotron dancers! Can you believe this?
The pair used to go to sporting events across New York City and show the arena moves that were so impressive they were always featured on the Jumbotrons. And we have a video of those glory days! This is gonna be so good.
Yes, Taylor Swift can do 'The Robot'. (If you can do it too, you're allowed to add this to your CV.)
If you're sceptical over Tay-Tay's power you better know she can actually break wood with her bare hands!
Basically this last gifs is the perfect explanation of what '1989' did to the pop music world a few months ago.
If anything, this video will remind everyone of how much you love watching Taylor Swift awkwardly dancing. (And how much you love her.)