Lets start off by saying Taylor Swift is one of our favourite pop stars. Why? Because she is the worlds nicest popstar, with the 1989 secret sessions and 'Swiftmas' she truely loves and appreciates her fans.
So when we tell you that someone by the name of '@Lizzard' has hacked T Swifts Twitter account, you probably wont believe it. Who would want to hack Taylor, she's just such a babe.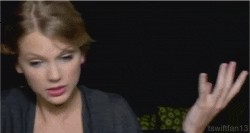 '@Lizzard' who describes themselves in their bio as the 'Original Digital Gangster [and] Leader of Lizard Squad' tweeted from Swifts account 'go follow my boy @lizzard.'
Whoever it was, was giving them and their friends shout outs via her page 'Shoutout @veriuser follow him guys' Fav when done for a follow Love you all!!! xx'
'@Lizzard' then went onto their own account to say 'Yes, i'm currently dating @taylorswift13 ;)'
That's not all, T Swift's Instagram account has also been hijacked!
We don't really know what to say Taylor except we hope you can shake it off.