If you can get past smudging, the second most irritating thing about manicures is chipping. There's nothing quite like spending the afternoon giving yourself a nice at-home mani and then noticing a huge chip on your index finger by dinnertime. Thankfully, there are a few ways to help extend the life of your manicures and prevent those awful chips from happening too soon.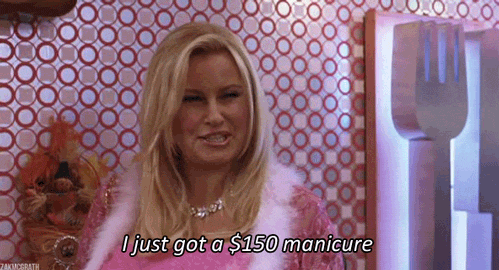 1. Buy the right products
If you're only spending £1 on nail polish, chances are, it's thinned down and not going to last. You have to spend a little bit more to get salon-quality base coats, colors, and top coats. It's worth it, trust us.
2. Prep your nails properly
The biggest thing preventing nail polish from adhering to your nails like glue? The natural oils on them. After shaping your nails and pushing back your cuticles, swipe a tissue soaked in rubbing alcohol over all your nails before starting to get rid of that oil and give your base coat the perfect surface to grab onto.
3. Don't skip the base coat
Base coats are crucial to manicure longevity, not to mention they help stop polish from staining your nails (red, we're looking at you).
4. Thinner is better
Don't glob the polish on. You want to do very thin coats—even if the first looks streaky, the second will cover it up. Give coats a few minutes to dry in between so that the thinners in the polish have ample time to evaporate, or else your mani will be peeling in layers.
5. Don't skip the top coat
The top coat is just as crucial as the base coat. It gives your color an extra barrier against the world, so don't skip it—even if the polish boasts that it doesn't need one.
6. And keep applying the top coat
A fresh top coat every day can really extend the life of your mani. If you're especially prone to chipping for whatever reason, you might want to consider a glitter top coat. The bits of sparkle join up like a physical shield and tend to last longer than polishes without them.