The key to a long-lasting lipstick isn't always how much you pay for it. Thankfully, there are simple tips and tricks to get the most longevity out of any lipstick in your makeup arsenal, so you can have Kylie Jenner-level pout perfection all day (or night) long.
Start with proper pucker preparation
You have to have well-conditioned lips to get lasting lipstick; chapped, peeling lips will not get you the look you're going for. Exfoliate lips the night before with a warm, wet washcloth or toothbrush to buff away dead skin, then coat with petroleum jelly overnight. You'll wake up with super soft lips.
Use a lip primer or balm
Start with a non-greasy lip primer or balm—something with a waxy consistency—to give your lips moisture all day long. This way, they won't dry out under the lipstick and get that awful cracked look.
Don't skip the liner
Lip liner is so not a thing of the past, and you've got to embrace it if you want your lipstick to last. Start by penciling the outline of your lips, and then use the liner to fill in your lips. If the balm is the foundation, then the lip liner is the support structure, if you will.
Apply the lipstick properly
Now it's time for the actual lipstick. If you can, apply the color with a brush in order to get in all the natural crevices in your lips. If you've only got your tube of lippy, then be sure to press your lips together well to spread the color down and around. Blot with tissue to get rid of excess, then repeat for a second coat.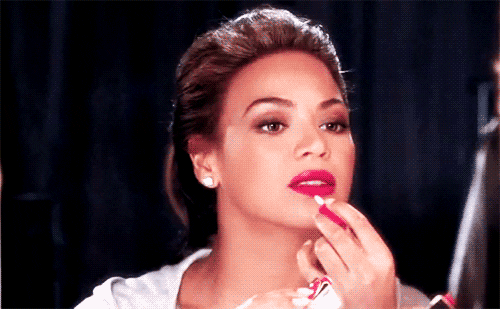 Optional: clean up with concealer
Using concealer and a brush with a stiff edge, you can go around your mouth and crisp up the edges of your lips for that super professional look. Occasionally wipe the brush clean in case you pick up some of the lipstick color as you go.