Put the Mariah Carey and Wizzard on hold this Christmas season, because The Vamps have something extra special for you. It may not be wrapped up, or even under a Christmas tree, but James, Brad, Connor and Tristan are sending extra cute seasons greetings in the form of a Christmas version of their deluxe album, 'Meet The Vamps'.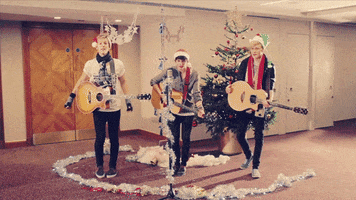 With two original songs, "Sleighing In The Snow" and "Hoping For Snow", and a bunch of cool covers, this album is definitely a must as the 12 days of Christmas roll in on Monday.
And what makes it even better? The album is just £6.
Check out James singing "Sleighing In The Snow" for cheeky sneak peak of what the album's like.