It's no surprise that Little Mix were asked to perform at the live final of 'The X Factor' at Wembley Arena. 'Glory Days' has been in the top 3 of the Official Album Chart since its' release at the end of November and they're pretty much ready for world domination now. They are still the first and only group to win 'The X Factor' in all its' 13 series. Can you believe they won five years ago?! Crazy…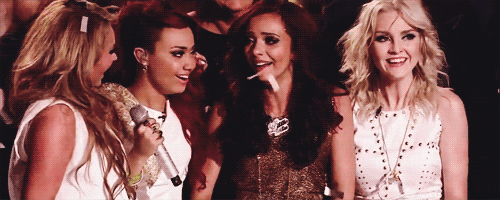 The girls took to the stage to perform latest single 'Touch' and 'Oops' featuring Charlie Puth and it didn't take long for fans to notice something. Watch the performance below and see if you notice it too!
Is it just us, are we witnessing the birth of Jarlie (Chade?!) at the end of 'Oops'? Charlie even tweeted this! It's got to be legit.
#xfactorfinal @LittleMix pic.twitter.com/SSgcTiG8hV

— Charlie Puth (@charlieputh) December 11, 2016
See?! It isn't just us that saw it!
https://twitter.com/igenteodoro_/status/808273520819961857
@charlieputh @LittleMix yesss the cutest pic.twitter.com/CmNzZzgGMn

— Spunky Chunk (@LovatosGenesis) December 11, 2016
@charlieputh @LittleMix DUDE SHE HAS A BF BUT I SHIP THIS #Sorrynotsorry

— rat (@biochemistyIes) December 11, 2016
Although some fans aren't convinced…
@dnamixed @charlieputh @LittleMix Calm, it's just a photo.

— lolaNMSS (@placestaylors) December 11, 2016
Find Jade and Charlie's Snapchat usernames in our Snapchat Directory
What do you think? Do you think Jade and Charlie would be the cutest couple ever? Let us know your thoughts below!