Beyoncé, the supreme ruler of the universe and greatest living music entertainer, turns 33 today.
4 September should be a national holiday. So while the Beygency continues to rally for this very worthy cause, let's celebrate this special B'Day with pure unadulterated Bey-worship.
Here are 33 reasons why Beyoncé is just beyond amazing.
1. She redefined boss for womankind. Not only is she a bonafide global superstar, Beyoncé also has her own entertainment and management company which looks after her various ventures in music, movies, fashion and video productions. Bey sets an example for female artists in a male-dominated industry.  Now that's proper girl power.
2. You have the flu; Beyoncé has the flu. Compare the effects. You are just not on her level, mate.
3. That moment her hair got caught in a fan and she kept calm and carried on singing like a pro. (See 0:26 mark)
4. That time she gatecrashed a fan's karaoke sesh after hearing a bunch of girls belting her tune. Better yet, she posed for a photo with one of the party-goers who had passed out in the room. #IWasHere
5. When she dropped her fifth solo album Beyoncé on 13 December 2013 without any warning and broke the internet. Not only were there 14 new songs but there were 19 new music videos too, none of which we saw coming. It was an actual pop music event unlike any other we've seen in a long time.
6. She is the perfect example of a superstar who isn't too important to care. Check out this post by one of her dancers at the recent MTV VMAs.
7. Her lyrics have become a huge part of our generation's pop culture. When was the last time you gave directions 'to the left, to the left' without doing it to this tune?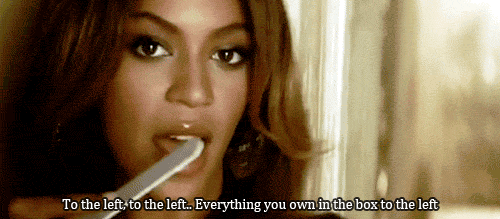 8. Thanks to Bey we now know a thing or two about 'surfboard'. She's not a regular mum, she's a cool mum.
9. You will always know where you stand with the Queen. About five meters away would be the standard protocol.
10. She has zero tolerance for poor service.
11. She is not just a businesswoman. She is the business, woman. Beyoncé topped Forbes' Celebrity 100 list with reported earnings of $115 million as of June 2014, thanks in huge part to The Mrs Carter World Tour, which brought her an average of $2.4 million per city.
12. She made you believe – for just one second – that you too could pull off a denim 'n' sunflower doily combination.
13. Even though she's a huge global solo star, Bey has nothing but the best of love for her DC girls (and Real Housewives of Atlanta quotes).
14. Remember that massive Superbowl Halftime Performance where she pulled out a medley of hits and crazy facial expressions? The internet had a field day.
15. She's passionate about supporting talented female musicians. Can you name another artist who has consistently toured the world with an all-female band?
16. She showed us the only way to walk strut down a street.
17. She sets the standard in which all hair flips are measured. Watch and learn, kiddo.
18. She has the perfect typing posture. Bet £20 you just sat up straighter.
19. Being able to do the entire 'Single Ladies' routine is a sure sign that you are a class above your peers. This is how success is measured in the real world.
20. No one could possibly look this perfect wearing a white tent.
21. She has creative ways of firing people. (See 0:43 mark) Snap.
22. She takes a walk on the wild side. How you doin'?
23. Here's another of Bey's lasting contribution to pop culture: 'Bootylicious' has been part of our language for 13 years. Never forget.
24. Yes, she's a super fierce diva but Beyoncé is still amazingly human. Look at her welling up with emotions when Jay Z and her daughter presented her with the Michael Jackson Vanguard Award the MTV VMA. Oh, all the feels when Blue Ivy applauded, "Yeeeah mummy!"
25. As our spiritual leader, she always challenges us to dream bigger.
26. In 2011, Bey became the first female artist to headline Glastonbury's main Pyramid Stage in 25 years. Safe to say she slayed that entire festival.
https://www.youtube.com/watch?v=Yt_knwafsOs
27. How about Billboard Music Award performance three years ago with the flawlessly choreographed routine in front of a giant video screen?
28. Or that time she surprised everyone at Coachella by showing up on stage to dance with her sister Solange?
29. Jennifer Hudson may have bagged an Oscar for her performance in Dreamgirls but my god, wasn't Beyoncé simply brilliant in it?
30. She takes pride in her curves and we love her for it.
31. She gave us the best Instagram #selfie caption ever. #Flawless
32. Ugh. Damn, she even looks flawless in wire-frame glasses.
33. And finally, a word from our Queen on this special day…
Happy birthday, Beyoncé!