It's happening, guys. Lorelai herself has confirmed it.
Since one magical day in October 2015 when the Netflix powers that be confirmed they would be making all our dreams come true with this fantastical new show – a Gilmore Girls revival! – we have been on the edge of our seats scouring the internet for clues as to when the filming will begin…and who is involved.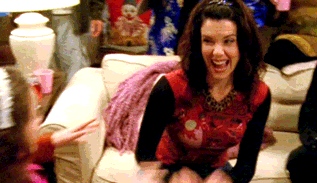 Finally, our desperate cries from the gazebo were answered. Last night at precisely 10pm (2pm her time) Lauren Graham (@thelaurengraham) tweeted the cheekiest photo of her with costume ready to film. The excitement we all feel is reflected perfectly in her eyes…
I CAN NOW CONFIRM: it's time for me, and this jacket I stole in 2007, to return to work.@netflix #GilmoreGirls pic.twitter.com/tBb07J9oO1

— Lauren Graham (@thelaurengraham) January 29, 2016
So, Lauren (Lorelai) is good to go. But who else is involved in this thrilling revival? Well, obviously we have Alexis Bledel (Rory). The mother-daughter duo are a given. We also have Scott Patterson (Luke Danes) on board, as well as Kelly Bishop (Emily Gilmore), Keiko Agena (Lane Kim) and…wait for it…Sean Gunn (Kirk)!!
Netflix made this deal with Warner Bros some time ago, declaring that the 'revival' (the excellent word they've been using!) will be a very short series of four ninety-minute episodes, written by the original brain behind GG Amy Sherman-Palladino, and each episode will be centred around…seasons. The tentative unofficial title is Gilmore Girls: Seasons. We're intrigued!
So while we are loving just knowing that filming is finally under way, there are still some questions. *ahem* *unrolls scroll*
What is Lorelai up to, work-wise? Is she married to Luke, finally? Is Rory working for The Times, yet? What about Emily, is she okay? Did Richard pass away when Edward Hermann did? What on earth is Kirk doing with his life? Is Taylor still running the town like a mad mini-tyrant?
And finally…Jess? Dean? Logan? Will Rory be with any of her former flames? Will any of them even make a tiny appearance? We just want Rory to be happy…
We have so many questions! I mean, I suppose we can wait for the release date on Netflix…but obviously we're secretly hoping that our new bestie Lauren Graham reveals more via tweets along the way…!
In the meantime, we'll be digging out our beloved DVD boxset and weeping happily at every episode.
And singing along a little too loudly and emotionally to the theme song. Where you lead…I will follow……