We have a confession to make. Here at MP! we have world's BIGGEST girl-crush on Perrie Edwards, and we're not afraid to admit it. Not only does she always look AH-MAZING, but she's also a fabulous singer, and seems like an all-round good egg.
But one of our favourite things about Perrie, has to be her hair.  Need you ask us why?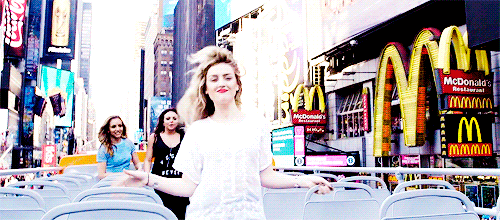 If you thought the blonde was good, you should prepare to get seriously excited. News has just hit of a new hair colour in camp Edwards, and we have a hunch that you are going to heart it.
Perrie's updated her edgy look with a candy floss pink ombre effect, and we couldn't be more in love.
It looks gorgeous just chilling on its own.
It's great for whipping back and forth.
And it even looks good in plaits.
Seriously, is there ANYTHING the pink hair can't do? We don't think so.
Now you're dying with hair envy (see what we did there?), you're probably going to want to steal Perrie's look for yourself. So, whether you're after a semi-permanent dye or a temporary fix,  here are our top tips for getting the candy floss look for under £10.
Dye

If you want to go all-out, you could dye your hair. For this, we suggest Bleach London's Non-Permanent Rose Dye (£5), or Directions Pastel Pink Semi-Permanent Dye (£3.99).
If you're dying your hair, please take care not to damage it. Check out our advice on how to best look after your hair when home dying here.
Shampoo & Conditioner
To achieve the dyed look without having to commit to dye itself, coloured shampoos and conditioners are a great compromise. Although these will only work on blonde hair, they'll give you a subtle pink hue which we think you'll love.
We recommend Bleach London Rose Shampoo (£6) and Conditioner (also £6).
Spray
For what is probably the easiest route to candy floss locks, head for a spray. It won't last long, but it's an incredibly quick application method, and it's ideal if you want some colour you can wash out for school or work.
We love Fudge's URBAN Hair Art in pink  (£4.49),  Pixie Lott Spray on Hair in pink (£3.99), and Label.m Powder Pink (£8.45).
Chalk
When you're only looking to splash a bit of colour in your hair, and want to relive the 90s, chalk is the way forward.
Hair chalk is completely temporary, and can be used as little, or as liberally as you like. It's also one of the easiest methods of adding pink to darker shades of hair (which, if you ask us, is a win).
Our picks are Bleach London's Hair Crayon in Rose (£4),  Pixie Lott Hair Hi-Light in Pink (£1.99) and NPW Pink Hair Chalk (£3.59).
Have you tried to copy Perrie's look? If you have, make sure to tweet us your pictures at @maximumpop.