So, we love our book events. But isn't it tough keeping track of them all? Such a pain trying to remember what's happening where and what time this or that starts, so we'd like to help you out! (We're kind of lovely like that.)
Here's a handy list of all things bookish happening in February:

Thursday 4th February, 2016.
Harry Potter Night.
Waterstones is going absolutely potty for Potter on Feb 4th, all over the place every store is taking part!

Friday 5th Feb, 2016.
Meet Cathy Cassidy
If you're a fan of Angel Cake, Indigo Blue, or any of the fabulous books by this talented woman, she'll be signing and chatting.
Where:  Plymouth Guildhall
When:  9:30am – 11:30am.


Saturday 6th Feb, 2016.
National Libraries Day.
Your local libraries should totally be involved in this and doing fun activities to celebrate the day.
Here are some options:
What: Coffee Crafts & Characters
Where: Westbourne Library
When: 9:30am – 1pm
What: Story Time, coding sessions, yoga class, origami, shelfies & more
Where: Carnegie Library
When: 10am – 4pm


Wednesday 10th Feb – Sunday 21st Feb, 2016.
Imagine Children's Festival
When: Every day from 10:30am
Where: The Southbank Centre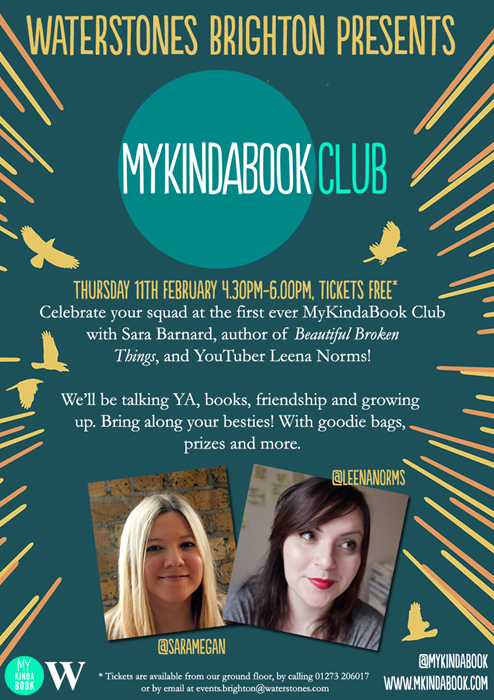 Thursday 11th Feb, 2016.
My Kinda Book Club: Beautiful Broken Things.
Brighton Waterstones will be hosting first-time author Sara Barnard and legendary BookTuber Leena Norms for chats.
Where: Brighton Waterstones
When: 4:30pm – 6pm
This event is FREE but you do have to email [email protected] to guarantee a spot.
Sunday 14th Feb, 2016.
Book Giving Day
A 100% voluntary initiative aimed at increasing kids' AND adults' exposure to good reads!
Where: Everywhere!

Monday 15th Feb, 2016.
An Evening with Raziel Reid in Conversation with Juno Dawson: 'When Everything Feels Like the Movies' launch
This exciting talk will be in celebration of Raziel Reid's debut release, the YA novel 'When Everything Feels Like the Movies'.
Where: Waterstones Piccadilly
When: 7pm
This event is £5 – or £3 for Waterstones card holders.



Tuesday 16th Feb, 2016.
Foyles Book Club: 'The Girls'
Once a month, Foyles staff and customers get together to discuss some reads – and this time it's 'The Girls', by Emma Cline.
Where: Foyles 107 Charing Cross Road (The Auditorium, Level 6)
When: 7pm – 8:30pm
This event is FREE.


Saturday 20th Feb, 2016.
Meet Grace Helbig
Grace Helbig, YouTube princess, will be signing copies of her new book 'Grace & Style'.
Where: Waterstones Bluewater
When: 4pm
This event is £12.99 (including book!)

Thursday 25th Feb, 2016.
Bloomsbury New Writer's Evening
The marvellous publishing house Bloomsbury is on the hunt for new voices, and has put together a panel of authors (Ann Morgan, Paul M. M. Cooper, Holly Müller) who will be in conversation with Alexa Von Hirschberg.
Where: Foyles, Charing Cross Road (The Auditorium, Level 6)
When: 7pm – 8:30pm
This event is FREE but spaces must be booked online.
Tuesday 23rd Feb, 2016.
Speakeasy: #UKYA February Fiction Party
Who: Eve Ainsworth, Holly Bourne, Kathryn Evans, Scholastic
What: Readings, cocktails, an utterly ridiculous short story challenge plus the chance to meet the authors and get your book signed.
Where: Drink, Shop & Do – 9 Caledonian Road London N1 9DX
When: 7pm- 10pm.
Cost: FREE. Register for tickets online.



Friday 26th Feb, 2016.
Bluewater Book Club
Waterstones Bluewater hosts a happy friendly book club for their customers. Book discussed on this occasion will be 'Girl on the Train' by Paula Hawkins.
Where: Waterstones Bluewater
When: 7pm – 8pm
This event is FREE.