We have some positively shriek-worthy news!
As we settled down to watch Zoella's new vlog 'Huge Wardrobe Clear Out' we had no idea that we would make a guest star appearance!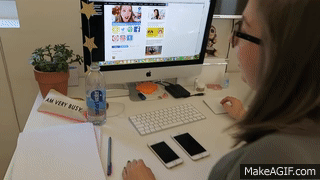 MUM WE'RE FAMOUS!!! WE'RE SO EXCITED! 😵 😵
Yes it turns out one of our readers is none other than Zoella herself. We like to think she hangs around with her friends and plays MP! quizzes on her days off.  All the best people do.
And yes Zoella… we can confirm that Instagram is very creamy 😉
If you want to take the quiz famously played by Zoella, HERE IT IS!!
We will never forget our Zoella shout-out. Love you gal!
Tweet us @maximumpop if you think we just got precisely 567% cooler because Zoella is one of our fans (though tbh it's pretty hard to improve on perfection 😚).