You only have to watch 20 seconds of Zoella to know that it's virtually IMPOSSIBLE to dislike her. She's smart, funny AND intelligent.
Basically, she's the big sister we always wanted – and we LOVE her.
One of Zoe's biggest achievements to date, is being able to openly discuss her anxiety for the purpose of helping others. It takes a lot of courage to admit to something like that, especially when you're forever in the public eye, and we seriously commend her for it.
Unfortunately though, not everyone seems to be able to understand just how brave Zoe's been in admitting her personal mental health battles. *sigh* 
Speaking to 'The Sun', Zobo admitted that she's been targeted by cyber bullies. She said:
"Unfortunately, it's an experience I know about all too well, having gone through it myself in recent years. I've had comments about being too skinny and that I pretend to suffer from anxiety to boost my subscriber figures."
Okay, come on, this is ridiculous. You only need to watch one of Zoe's videos where she talks openly about her mental health disorders to see that she's telling the truth.
She's even turned down the opportunity to meet Prince Harry in the past because of her anxiety. Does that sound like someone who's lying to you, because it doesn't to us.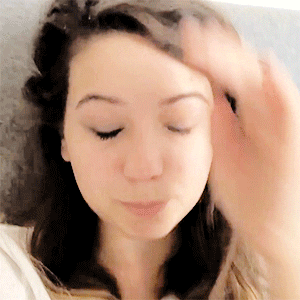 The fact that anyone, especially Zoe, should have to justify having a mental health disorder is seriously outrageous. She's already helped so many of her fans to accept that mental health issues aren't something to be ashamed of, and has shown that anybody can be a sufferer.
What Zoella has done to help fight the stigma surrounding mental health is truly remarkable, and anyone even suggesting that she's lying about it is completely gross and unacceptable.
PEOPLE THINK THIS COULD MEAN THE END OF ZALFIE AND IT'S MAKING US REALLY SAD
#CHRISTMAX16 DAY 5: SNAP UP ZOELLA'S ENTIRE 'GIRL ONLINE' SERIES, SERIOUSLY!
Despite the negative comments, Zoe's not letting the haters get her down. She said:
"I try not to take the negative comments personally by focusing on all the lovely, positive things that people write instead."
How wonderful is that?
This is the kind of positive attitude which makes people LOVE Zoe so much, and her fans will continue to support her – no matter what allegations her haters attempt to fabricate.
We just hope that Zoe will continue to ignore the trolls, and keep on fighting the stigma surrounding mental health issues. We're with you all the way, Zobo.