It's no secret that some of the top YouTubers get paid pretty healthily for their talents.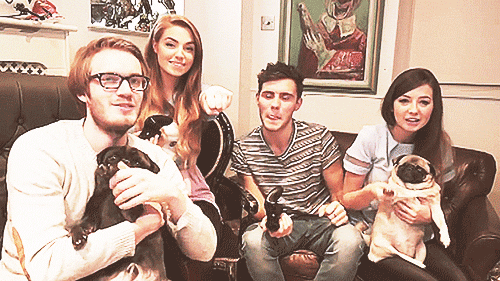 And while they obviously have their critics haters, we think the dollar they earn is more than deserved. 
Let's face it – in this day and age earning any sort of money is no easy task, so why shouldn't YouTubers take the bull by the horns to make as much moula as possible?
They're using their talents, tech-saviness and personalities to make amazing lives for themselves, so what's not to love?
Plus, many YouTubers (like Bethany Mota, Zoella and Alfie Deyes) have used their influence to help some truly outstanding charities, and that just makes us love them that little bit more, TBH.
So, let's get back to business of who topped the earnings list this year. According to Forbes, these were the highest paid YouTubers this year:
Felix Kjellberg (AKA, PewDiePie) – $15 million
Roman Atwood – $8 million
Lilly Singh (AKA, ||Superwoman||) – $7.5 million
Smosh (Ian Hecox and Anthony Padilla) – $7 million
TIE! Tyler Oakley and Rosanna Pansino – $6 million
It's a tie between Mark Fischbach (A.K.A. Markiplier) and German Garmendia – $5.5 million
It's a tie between Rhett & Link and Colleen Ballinger (AKA, Miranda Sings) – $5 million
While Zoella didn't make the list (we were kinda surprised, too), the IB Times reports she makes up to a whopping £50, 000 each month (but with such an impressive YouTube channel, blog, beauty range, home range and an entire book club under her belt, it doesn't come as much surprise). YOU SLAY, ZOE.
#YOUTUBEREWINDISCOMING AND WE CAN'T DEAL – HERE'S EVERYTHING WE KNOW SO FAR
6 TIMES LOUISE PENTLAND WAS THE BIG SISTER WE ALWAYS WANTED
Unfortunately, after hearing Forbes' news, some people are being less than complimentary. But if you ask us, we should be commending YouTubers like Zoella and Lilly Singh, not criticising them!
In our opinion, they're showing us that you CAN succeed as a professional and inspirational woman in the world, and they're teaching us to follow our dreams.
So if you think you'd like to start or grow your own YouTube channel, then GO FOR IT.  All you need to do is just be you, and the rest will follow.