Bonfire night is almost upon us, which means our mouths will be stuck together with toffee apples, it's totally acceptable to chain-drink hot chocolate, and we'll all look like we're doing the 100 layers of clothing challenge 24/7.
The dawning of November also presents us with the opportunity to take the world's most bubbliest of baths every night of the week, AND NOBODY CAN STOP US.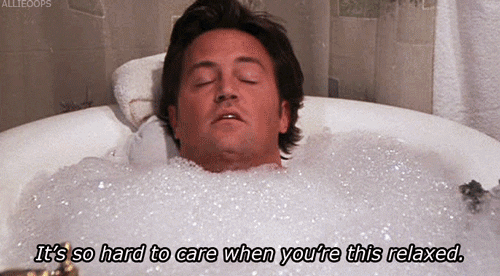 We hear you, Chandler.
To help you on your journey to achieving the highest possible level of autumnal relaxation we have put together a giveaway of epic proportions.
Thanks to H&A we're giving you the chance to win not one, but SIX Happy Jackson bath soaks. That's a different scented bath soak for nearly every day of the week — what more could you want?
And that's not all, because the lucky winner will also receive a £20 Sainsbury's gift card. Think of all the beautiful homewares, candles or Christmas presents you could buy with that.
Entering this bubbletastic prize couldn't be easier. All you need to do is:
Head to Twitter
Follow @maximumpop
RT the tweet below
Oh, and make sure to leave a comment below explaining how you like to relax best.
The winner is @shannoliviab. Congratulations!
WIN! ADD SOME SPARKLE TO YOUR LIFE WITH 1 OF 5 SIGNED LOUISE PENTLAND DVDS
WIN! MEGA #WORLDSCOLLIDE BUNDLE INCLUDING TOUR SWAG AND 4 BOOKS SIGNED BY RAINBOW ROWELL & LEIGH BARDUGO
The competition is open to UK ENTRANTS ONLY and closes 11/11.
Best of luck!