Let's be real, 'The Girl of Ink and Stars' is possibly one of the most beautiful things we've ever seen in the world. And with beauties like these #goals libraries, we've seen our fair share of gorgeous bookish delights.
It's really no surprise it was nominated for 'Cover of the Year' in the first ever MP! Bookish Awards.
We got the chance to sit down with the woman responsible for it all aka our hero, our goddess, the woman we owe all our love and thanks to: Helen Crawford-White!
Helen designed the cover for this gorgeous book and we even got her to reveal *gasp* what the book USED to look like… but which will be your fave cover?
What do you love about 'The Girl of Ink & Stars' as a book? I really loved the sense of adventure and the mysteries of the island. It really was one of those books that I couldn't stop reading until I found out what had happened!
I thought it was totally intriguing and original and of course I love any strong female heroines.
What were your first ideas for this cover design? Did the book look very different in the beginning? This kind of a story is a gift for any designer because there is so much rich visual imagery you can draw from for the design.
I loved the reference to the birds flying away and of course beautiful old painted maps and inky engravings were very much a source of inspiration. Some of of the first ideas I had for the cover were much map-orientated and featured an inky night sky splat!
But the covers featuring the girl were much more favoured so that was the route developed. It went through a few transitions of colour and layout, but ultimately the final cover looked very similar to one of the very early visuals.
What is your favourite thing about the cover? I love the bold silhouette and the hints at the painterly inky sea. I also like the strong simple colour palette and the maps on the inside cover.
I have always been a massive fan of illustrated endpapers since I was a kid poring over the Tolkien and Winnie the Pooh maps!
What mediums were used in the creation of this? Its combination of loads of bits: scanned in painted elements, photographic images, vector drawings, hand drawn line work and old paper textures! The girl face silhouette started from a photo and gradually things were layered and coloured and arranged to create the final design.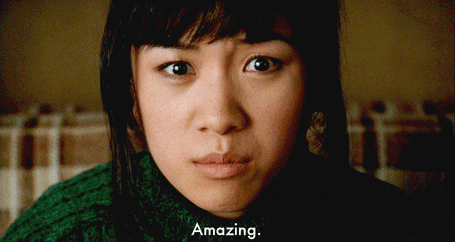 If you think this cover deserves some recognition then you NEED to vote for 'The Girl of Ink and Stars' right this second – before it's too late!
It might have been racing ahead to an early lead, but who knows where the rankings stand now? It's anybody's guess.
We're legit blown away by Helen's awesome talents. If you want to see more of what she does (and why wouldn't you?) you can find her on her website and @studiohelen on Twitter.
And now, drum roll please… the giveaway! We've got 5 beautiful copies of 'The Girl of Ink and Stars' by Kiran Millwood Hargrave to give away and here's how you can get your hands on one:
This competition is now closed. Congrats to the winners @HazyJoJo, @ruth120067, @NicciH66, @sjhowes29, @jennyyleanne.
Have you cast your vote yet? Better get to it if not – voting closes soon and you might have a few nominees you want to get read first.