Clancy has always been a bit of an outsider but when her dad is involved in a car accident that kills two local teens everything begins to well and truly fall apart.
We sat down with the author himself to talk about how the book came to be. PLUS keep reading because we've got a seriously awesome giveaway to share too.
Where did the idea for this come from? My background is in short fiction, and the idea for Clancy came through three separate short stories. One focused on the car accident that is the early focus of the book, while another was the skate park scene (chapter two). The third idea was a character study of a girl I saw at a makeup counter in a shopping mall where I was writing. I started to think about the type of person who would work there, and whether or not they would enjoy it.
You're dealing with a lot of difficult issues – did you ever second guess what you were writing? Initially, no. I had a plan in place for the story, and was lucky enough to have a week in which to write the first (albeit short) draft uninterrupted.
I found Clancy's voice (that is, her way of speaking and observing) early on, which made it easy to write her story confidently. It was later, of course, that I began to think about her authenticity as a young, female, gay character. I showed early versions to friends of mine whose experience growing up was much closer to Clancy's, and used their feedback to make sure Clancy was as real as she could be. If, anywhere along the path of writing this book, I felt that Clancy was inauthentic or exploitative, I would have stopped writing, but I really like Clancy, and I believe I've done her story justice.
Explain Clancy's attraction to Sasha. Growing up in a small country town (something that Clancy and I have in common), there always seems to be a "Royal Family", that is a literal family or collection of friends, lovers or associates that have an untouchable air to them. The Cool Kids, for wont of a better phrase. Clancy's attraction to Sasha is partially this yearning for "something more" than is being offered to her in her home town of Barwen.
Sasha seems to be cool, beautiful, and in control of her life: all things Clancy believes she isn't. So on one hand there's this identity she wants, but it's also obviously a romantic attraction, something that Clancy only admits to herself later in the book.
Why do you think summers are such iconic elements of YA? There's a classic trope in YA fiction, I think, of books set in summer holidays, and all the possibilities this entails. While Clancy is set in September (i.e. Spring in Australia), it's still a break between school terms, and it's a time when many young people, especially as they near the end of their schooling, are given almost a sampler of freedom, and they're forced to contemplate what's next? Also, sun, sand and surf are much more fertile grounds for YA hijinks than rain and darkness.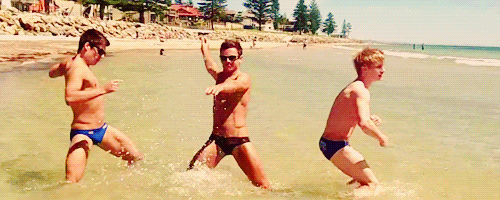 What's your best memory of summer? Long days. Cricket matches you could go back to after dinner. Sprinklers. These long icypoles called Funny Faces where the flavour would fall to the bottom of the plastic pack so you'd basically eat a whole lot of ice but then and you'd get to drink all the syrup and get a sugar high. Swimming, swimming, swimming.
We know you must all be dying to read this book now because we sure are – and you're in luck, because we've got 10 copies to give away!
How can you win? All you have to do is:
And don't forget to comment the thing you most miss about summer down below.
This competition is now closed! Congrats to the winners @abooknerd13, @Lrn20121d, @AztecAnnmarie, @CharloCIFR, @stelesandrunes, @BecInHiding, @MarnieRVL, @JennaSuth24, @promwithpalomaf, @TeamWolf1988.
Never miss another event with your favourite authors again! Check out the MP! Book Events site for news about upcoming events in your area.