We've all done it. We've all read our fair share of fan fictions from time to time, and there's always been that one that just makes absolutely no sense. Or the one that is so overly sexual that it sounds like a joke?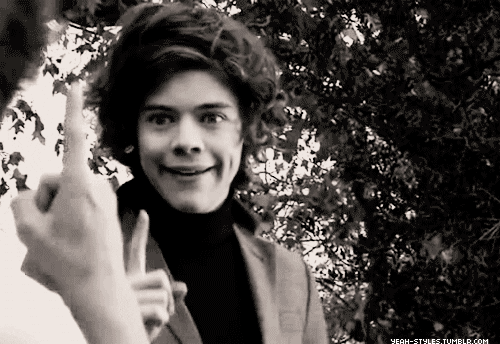 Well, now we've done all the dirty work for you. Here's 25 of the worst fan fiction sentences ever written.
From the infamous 'My Immortal': "He was so sexy that my body went all hot when I saw him kind of like an erection only I'm a girl so I didn't get one you sicko."
"He was the best snogger I had ever had the chance to snog. He made my lips tingle with something I never felt before. "
"Harry clutches gayly to his lover/bandmate. Oprah smiles before laughing ferociously."
"Nothing dude," Came a silky voice from across the room, I felt shivers go down my spine when I met the golden orbs from across the room."
"What the flip dude! Don't read that out loud that's a lemon! You can't read a lemon out loud!" Uhhh, no lemon in our drink thanks.
"I try not shave before playoffs," Alex says, his fingers immediately flying to his jaw and rubbing against the scraggly hairs there.
"Harry frowns and looks down at his hands. They look like a paper shredder got to them. Flaps of skin hang loose and he can actually see some of the muscles in the joints."
"Laying Niall down on the floor, he took down his spare pair of boxers and put the diaper on him, at the same time Liam gave him the blanket and pacifier." WAIT, WHAT???
"Do you need the loo Niall?"
"I don't need a shirt, darling. All I need is your love, baby. Please be my lover?"
Obama chuckled. "You mean the Chaos Emeralds?"
"Childish Gambino said, "Well? What are you going to do, Jack?" Speedily, Jack Frost took his cell phone out of his pocket, and texted Elsa" Oddest combo of people…
"Her brain feels like cotton and she's so, so tired right now."
"She was eaten again by his gaze"
"Do you, Hermione Granger, take Jack Sparrow to be your loftly wedded husband?"

"There are no breaks on the Freedom Train!" Is this a 1800's fan fic?
"It's been months since I married Ludacris, and a whole year since we turned into lions"
"I'll bet my laptop her hair is much softer than any fluffy sugary treat."
"The rest nodded, and they quietly crept up behind the splicer before bludgeoning her to death."
"Let's just say the brothels in Berlin are lots of fun."
"His green orbs bored into my blue sea-like orbs"
"Abe Lincoln slapped Winnie the Pooh"
"Well Maria that's why I'm teaching Elmo to be tough like a gangster."
"Did you get your jeans from your sister?" He asked. Ryan looked down. Indeed he had."
And we'll leave you with: "Sure nephew, and I wear a fourth of a bra"