We're 100% FULLY BLOWN OBSESSED with YouTubers who aren't afraid to admit that they're die-hard Potterheads. Honestly, guys, some of them are so creative, and have skills that we could only dream of! Take Kayla who posted Hogwarts house inspired makeup, for instance. Or the incredible Amy Jayne who made her very own HP! eyeshadow palettes out of books.
NOT ALL HEROS WEAR CAPES….OR INVISIBILITY CLOAKS...OR PIZZA DELIVERY UNIFORMS, GUYS.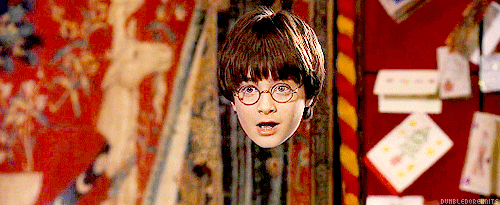 Recently, we stumbled across yet another incredible Potter-themed tutorial. There must be some kinda magic in the air.
The video is a result of Ricky Dillon teaming up with MUA Kandee Johnson for a Harry Vs Voldemort transformation, and we're not lying when we say that it has quite literally left us GOBSMACKED.
We don't like to pick favourites, but we're going to say it – this might just be the best one yet.
Ready to see what we're raving on about? Before you watch it, we should probably warn you that, after seeing this, you'll be cooking up all kinds of smutty fan fiction in your mind. YOU HAVE BEEN WARNED.
TOLD YOU IT'S WEIRD.
But this isn't Kandee's first makeup transformation that's left us OMG-ing. For those of you who haven't heard of her before, we suggest clicking subscribe RIGHT NOW. Kandee is the queen of makeup transformations and has rocked some seriously cool looks.
Take a look at some of these.
1. Beyoncé
2. Edward Scissorhands
3. Megan Fox
4. Disney's Maleficent
5. Miley Cyrus
6. A TROLL DOLL(!!!!!!)
7. Barbie's Ken
8. Queen Elsa
9. A comic book hero
10. Kylie Jenner
11. Tina from Bob's Burgers
12. Effie Trinket
13. Madonna
Told you they were good! Which one's your favourite out of the selection below?