If you've never been to Notting Hill Carnival, then let me tell you, you are *seriously* missing out.  Apart from the never-ending queue for the porta-loos *sigh*, it's a super fun place to be, and I'd 100% recommend going at least once in your life.
One of the best things about Carnival, is the colourful array of makeup, clothes and accessories on display. And with enough feathers to clothe the world's chickens for a year, and more diamantes than you'd find in Paris Hilton's walk-in-wardrobe,  there is a LOT to contend with.
If you're in any doubt as to what I'm talking about, here's a nifty little Rihanna GIF to explain more…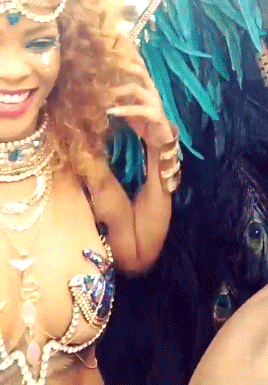 So, how do you get Rihanna's Carnival look when you've got the post-Brexit economy to contend with? Well, it's pretty easy really; all you need to do is find some bangin' beauty products to help you out.
Luckily for me, I had Stargazer cosmetics on side to help me create the ULTIMATE Carnival look.
Not only do Stargazer stock every type of colour, glitter and neon paint you could possibly want, but all of their products are also seriously good value (we're talking everything under £5). At that price, you'd probably expect some pretty shoddy products, and you'd be forgiven for thinking so.
So with that in mind, me and my two gal pals decided to put Stargazer to the test, and here's what happened.
Our favourite product of the day, had to be Stargazer's multi-coloured diamante set. Each pack only costs £2.50,  but comes with its own adhesive, and will provide you with enough diamantes to dot your eyebrows, just like I did…
For a more subtle look, we also used the diamantes to create some beautiful bindi patterns.
Admittedly, some of the diamantes did fall off during the course of the day, but with hot conditions, and some pretty hardcore (forward-slash awkward) dancing to contend with, we were impressed with their staying power.
Second up, was Stargazer's hairspray. At £3, it's an absolute steal, and a bottle goes a long way. While I used the multi-colour glitter spray to add some sparkle to my blonde locks, my brunette friend opted for the gold.
We decided to plait her hair and give it a golden touch, and boy did it look good.
The hairsprays stayed put all day, and, as promised, came out in one wash.
Finally, we tried Stargazer's neon paint. At £3 per tube it's amazing value for money, and really got us into the party spirit.
The neon paint stayed on all day, leaving us very impressed.
So, it's a thumbs up from us. If you're looking for a fun and effective makeup brand which won't break the bank, Stargazer is definitely worth a shot.
Do you have any recommendations for great carnival or festival makeup? Tweet your suggestions to @maximumpop, and we'll try to test them out!