Tommy Wallach's new novel, 'Thanks For The Trouble', is about a boy who cannot speak and a girl who lives forever. We asked Tommy about the theme of immortality that runs through this amazingly funny and clever book and here's what he told us:
Okay, I want to make this absolutely clear: 'Thanks for the Trouble' does not have any vampires in it. None. ZERO VAMPIRES! Okay, do we have that out of the way? Good.
But here's the thing: I get vampires. I don't want to write about them, but I get them. There's a reason why vampires capture the imagination in a way that zombies and werewolves and even ghosts can't. It's not sucking blood, which is gross but not particularly interesting. It's not having to skulk around in the shadows or all that junk about garlic and stakes and turning into a bat. It's the immortality: that's what keeps us coming back to 'Dracula' time after time.
It wasn't as big as some vampire flicks, but Jim Jarmusch's 2014 film 'Only Lovers Left Alive' perfectly captured what I imagine immortality would feel like: languorous and droll and really boring. You'd end up doing evil things just because you'd gotten so tired of doing everything else. (Of course, though I'm sure life would eventually get dull, I'm not sure how long it would take for the dullness to set in. I mean, if you could have infinite money and infinite beauty, I bet that wouldn't get old for a millennia at least.)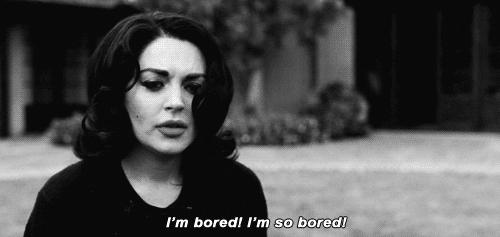 Even if it's a cliché, I do believe that life derives its meaning from its finitude. There's a reason a lot of people can't get work done unless they have a deadline, and there's a reason a deadline is called that in the first place. The threat of death keeps us all on our toes. It reminds us to enjoy the things we have, because we won't get to have them forever.
In the book, Zelda puts it in terms of the law of diminishing returns. The first time you eat a ripe peach is earth-shattering. The twelfth time is just really nice. The first time you see 'The Matrix', it blows your mind. The fourth time, you're just counting the plot holes. There are very few things immune to the law of diminishing returns. In 'Thanks for the Trouble', both art and love are suggested as possible solutions, but the truth is I don't believe either one actually solves the underlying problem, and that's the conclusion the book comes to as well.
But in the immortal words of Blue Öyster Cult, "Seasons don't fear the reaper/nor do the wind, the sun or the rain/we can be like they are." (Though the song certainly could've used more cowbell.)
Have you read 'Thanks for the Trouble' yet? Let us know at @maximumpopbooks!