We spoke to Tom Figgins about his brand new single 'Giants Played In Woods Like These', U2's undeletable album and writing a One Direction play. WHAT?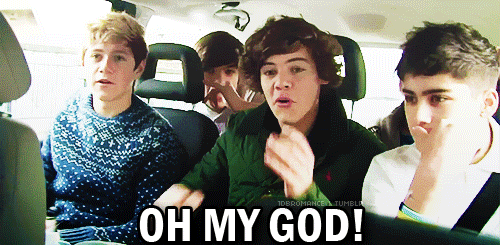 First of all, 'Giants Played In Woods Like These' is a bit of an odd track for a single so for anybody that hasn't heard the single yet, how would you describe what it's about?
It's basically about the past and who we grow up to be and who we've been before and looking back of your past and realising that it's gone and it's never going to be back again.
What do you imagine the woods that giants played in to look like?
I don't know. I guess any situation that you're in as a child, really. And when you grow up, everything's so much bigger. And right through to when you leave school and when you've figured out whatever it is that you want to do with your life, the world can seem like quite a scary place.
You held the single launch party for 'Giants Played In Woods Like These' last week. How was that?
It was amazing, absolutely amazing. It was so much fun. It was packed to the rafters in Notting Hill Arts Club, it was so busy. It was brilliant, a great night. A dry night for me though, I was driving unfortunately.
You've stated in the past that you come from a totally non-musical family so where did you find the inspiration to become a musician yourself?
I guess the artists that I liked. We had a piano when I was growing up and I kind of figured out that I was musical because I used to sit there and I used to play the songs that I heard on TV, I used to play the theme tunes to TV shows. So that's when my family realised that I was going to pursue that route and then when I was at school, I was in a couple of bands and I used to listen to very different music to what I make now. Jeff Buckley was a real turning point for me musically, he was my rock icon. I really, really love him. I wanted to emulate that when I started out but then you keep on playing and realise that you can't do things like that and you find yourself.
If you could duet with any of your inspirations – alive or dead – who would you choose and why?
It'd be Jeff, definitely. Just because of his voice. He's an amazing guitar player, too. And his writing… he's just the complete package I guess. Just amazing. Jeff Buckley would be incredible. It's a shame he's dead.
You've released two EPs now which have done really well, do you think you'll continue to make more EPs or will we be hearing a full album soon?
I want to do another two EPs, I think. I've still got a little more in me that I can drip feed before I do a full album. I don't think I'm ready to be an album artist yet, it's quite scary when you release an album. So I think maybe at the end of next year we'll have an album. I don't now, we'll see how we go.
When can we expect to hear the next EP then?
It will hopefully be out at the beginning of next year.
The music that you're putting out now is described as being more mature and developed to your previous EPs 'Your Place' and 'Wake Up', how has your music matured? Can you describe the difference?
It's kind of like that stage when you figure out who the people that you really want around you are, it's like that. I had to make those EPs to get to where I am now and where I am now is me. It's that realisation and the comfort of knowing that the music is now me and it makes sense now but back then I was figuring it out. A lot of people do when they're starting out in the music industry. If I had it all figured out when I first started then the songs wouldn't be any good. It's all about the journey, the journey's the most important bit.
The Vamps have recently revealed that their new single and album will both be named 'Wake Up'. Are you a little bit annoyed at them for stealing your title?
I had no idea, to be honest. But no, I'll let them have it. They'll probably have more exposure with it than my EP did. I won't be pressing charges.
You are signed to Nick Stewarts' label, who has signed huge artists like U2 in the past, does that put any added pressure on you to become a huge success?
I've never really thought about it like that. I know what I want to do, I guess I'm only constrained by my own ambitions and my ambitions are really high. I'm just going to keep shooting as high as I can and we'll see how far we get.
Will you be surprising us by putting your album on everybody's iPhone like U2 did?
For somebody of my stature in the music industry, I think that would be a rather canny marketing scheme but I think with U2 it kind of did a bit of the opposite. I've actually never listened to that record yet, but it's still sitting on my iPod. I can't get it off!
You're also a playwright and your play 'The Duck Pond' featured at Edinburgh Fringe last year. Do you have any more plays in the pipeline?
We're working on one at the minute which is a bit under wraps, the idea are still being fleshed out but we're hoping to take it to Edinburgh next year. It's an adaptation, I'll tell you that.
If you had to write a play based on the life of any popstar, who would you choose and why?
I'm not the best playwright but I think I'd probably do one about One Direction. I think that would sell. I think I could write that, I think it'd be a good one. We get a lot of screenings in the West End, with a lot of screaming teenagers.
Do you have any advice for anybody trying to get into the music industry?
Enjoy figuring it out. I remember when I started out, I just wanted it all figured out right away and I wanted to be played on radio right away but the time that you forget doing that, that's the integral bit. Go out and meet people. Go and play s***ty little pubs and create these stories because they're what you're going to be ultimately writing about, so go and explore.
Finally, will your fans be able to catch you live any time soon?
Yeah, I'm off on tour this week to the highlands, we're going to Edinburgh, Glasgow and Aberdeen and then we're playing the Borderline in London on October 14.
Tom's single 'Giants Played In Woods Like These' is released on October 2. Pre-order here. Tickets for Tom's Borderline gig are available here.