It's safe to say Taylor Swift fans are dedicated. With the biggest sales week for an album since 2002 and '1989' headed for a fifth week at no. 1 on Billboard 200, it's pretty obvious that Swifties are some of the most loyal followers around – making them a dangerous fandom to mess with.
Want to survive a conversation with a Taylor Swift nut? Here's 10 things you should not mention – under any circumstances.
10. "She's changed."
Don't dare come near a Swiftie with this line, unless it's followed up with "and I really admire her for growing and finding herself", because you will be shot. down.
First off, everyone changes. Secondly, a musician can't just keep writing and singing the same stuff – they need to expand, experiment! Really, Swifties are just going to tell you that you have no idea how life works.
9. "She's dated so many guys."
A really button pusher for Swifties is this phrase – because really, it's none of your business how many guys she dates, or doesn't date. So, shut up and sit down, before they drag out your romantic history.
8. "She makes it seem like girls need a guy to save them."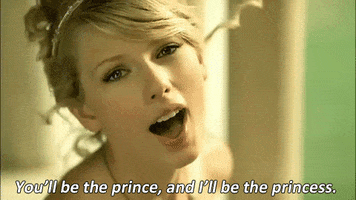 Songs like "Love Story" and "Teardrops On My Guitar" probably do make it seem like Taylor is a bit of a damsel in distress – or at least the lead in her romantic novel. But, so what? What's wrong with a little romance, and chivalry and old school love stories? Swifties will tell you nada, that's what.
Besides that, Taylor's no longer the starry eyed dreamer she was in her first albums. Now she's living in New York, telling her fans to shake off the haters, and tackling being a twenty-something head on. Swifties will have nothing but scorn for your unbelievably misinformed comment. Sit back down.
7. "She's crazy."
"Oh really?" will be the Swiftie's reply. "How do you know that? Popular media, huh?" You will find out very quickly that Taylor Swift's persona in the media is sculpted to make her seem like the typical ex from hell, and that this is no reflection of how she really is.
Plus, you'll be shown the video for "Blank Space" in about 3.4 seconds.
6. "Her cat, Olivia, is ugly."
John Cleese tried this once, and we wouldn't encourage anyone to try it again with any local Swifties. Check out the death glare.
If Taylor loves her cats, the fandom loves her cats. Do not tempt them.
5. "She's too skinny."
Not only is this body-shaming in general, and you should be rather ashamed of yourself, but Swifties will be down your throat in a heart beat. Or at least dealt with in the stone cold fashion Swiftie Lorde treated Diplo to.
4. "She slut shames."
There has been a lot of controversy over songs like "You Belong With Me" and "Better Than Revenge", with Taylor seeming to shame girls for liking "short skirts" and "what she does on the mattress". Oh, Tay Tay – what were you thinking?
However, as mentioned before, Taylor has grown up a lot over the years. She told The Guardian, ""I was 18 when I wrote that. That's the age you are when you think someone can actually take your boyfriend. Then you grow up and realise no one take someone from you if they don't want to leave."
3. She doesn't appreciate her fans.
You will be linked to this video. And then proven wrong. And the Swifties will laugh – like, "mwahaha" laughing. Trust us.
2. All she writes about is Harry Styles. 
Swifties will remind you that Taylor can write about whatever the hell she wants, and if that's Harry Styles because he was a big freakin' deal to her, then so be it.
Also. That statement is a gross over exaggeration. Hush your mouth before a Swiftie silences you themselves.
1. Her songs aren't even good.
Sorry, she can't hear you over the sound of her no.1 album and countless awards.