OMG! The moment we've all been waiting for has arrived. The Tide's music video for 'Click My Fingers' has dropped and we couldn't be more excited.
We must have watched it a thousand times, so we've really paid attention to the little details. Here's 12 things you might have missed:
1. Austin's cute little worry lines.
What have you got to worry about? You're beautiful.
2. Levi's chipped black nail polish
He just looks so rockstar.
3. The teacher's funky retro glasses
We kinda want them but… do we?
4. This cap
We want it. We need it. Where can we find it?
5. Levi's heart stopping curls
OK we're pretty sure you noticed that. How could you not?
6. THE SMILEY TOP
Your face will turn into a smiley when you see this
7. The moment shopping trolleys became relevant
This is trolleys' hour in the sun
8. The laddy pranks which just make them 342% cuter
Or is that 343%?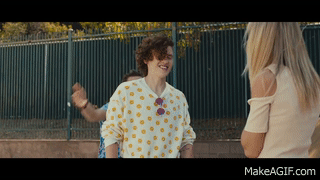 9. When Austin literally takes Levi out
That most likely hurt a lot…
10. The coolest moment that ever happened to anyone ever
Bonus point because it's Drew.
11. When Nate flew
Did you know he could fly? We had an inkling.
12. This moment of beautiful bromance
Why does this make us wanna cry a little?
Did you catch all those moments? Let us know your fave moment from the 'Click My Fingers' video @maximumpop.