Like all of us extra-basics, you're probably completely and utterly addicted to Starbucks.
Whether it's a frappuccino or a coffee with all of the extras that tickles your pickle, you can't go a week without your signature drink, and the barista at your local Sbux DEFINITELY knows you by name – no shame.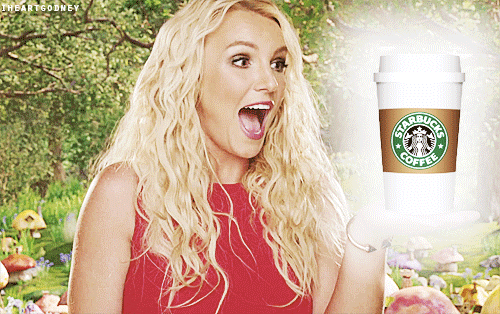 However, there's something about Starbucks that's a little different from most other coffee shops – and it's not just the MASSIVE Instagram potensh. Yes, the 'bucks have some amazing holiday drinks like the classic Pumpkin Spice Latte, but they also have an interesting way of naming their sizes.
We're talking about 'Tall', 'Grande', and 'Venti'.
every time i go to starbucks i get a venti bc i panic and forget the rest of the sizes

— abbie (@abbadabbadew) February 2, 2017
---
Here's how you can get yourself FREE Starbucks this February
QUIZ: Which Little Mix member are you based on your Starbucks preferences?
---
But where do these strange names come from?
WELL, according to Grande Expectations, a book about Starbucks stock, the famous coffee chain is actually based on Italian coffee shops.
Howard Schultz – Starbucks' founder – wanted to make a unique coffee experience, similar to what he experienced in Italy in the 1980s.
Thus, that is where 'grande' ('great' in Italian) and 'venti' ('twenty' in Italian) came from.
All well and good, you might think, but why the heck is a small drink called a 'tall'?!
*Hint* it's not an Italian word
Well, the reason goes way back to the 1990's when Starbucks first came to be. StarbucksMedley.com – an unofficial Starbucks news site – reported that way-back-when, 'venti' didn't exist. The sizes were 'short' (small), 'tall' (medium), and 'grande' (large).
When 'venti' was added to the mix, 'short' was thrown out and the names all dropped down one size. So really, it kinda makes sense.
#trueconfession I've never learned what the names of sizes at #Starbucks mean (venti? Grande?). I just order a medium.

— Chase Peeples (@ChasePeeples1) February 16, 2017
What do you think about the Starbucks size names? Do you ever just say 'small', 'medium', or 'large'? Let us know in the comments below.