It's definitely Autumn (or Fall if you're American) and that means hot chocolates, cuddly jumpers and nights in with your pals making comfort food and dancing in your pyjamas.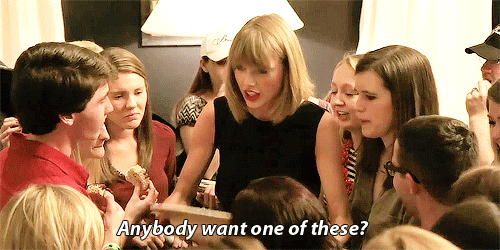 Remember last year when Taylor showed off her delicious looking pumpkin chocolate chip cookies?
NOW YOU DO. Well we've had a rummage through the recipe books Taylor's Tumblr so you can create the exact cookies Taylor enjoys to bake, bake, bake it off.
Ingredients
1 cup (2 sticks) unsalted butter, softened
1 cup white sugar
1 cup light brown sugar
2 large eggs
1 teaspoon vanilla extract
1 cup canned pumpkin puree
3 cups all-purpose flour
2 teaspoons baking soda
1/2 teaspoon salt
1 teaspoon ground cinnamon
1/2 teaspoon ground ginger
1/4 teaspoon ground nutmeg
1/4 teaspoon ground cloves
2 cups (12-ounce bag) milk chocolate chips, not semisweet
Nonstick cooking spray or parchment paper
Method
1 – Heat the oven to 350 degrees F. Spray cookie sheets with nonstick spray or line them with parchment paper.
2 – Using a mixer, beat the butter until smooth.
3 – Beat in the white and brown sugars, a little at a time, until the mixture is light and fluffy.
4 – Beat in the eggs 1 at a time, then mix in the vanilla and pumpkin puree.
5 – In a large bowl, whisk together the flour, baking soda, salt, cinnamon, ginger, nutmeg, and cloves.
6 – Slowly beat the flour mixture into the batter in thirds. Stir in the chips.
7 – Scoop the cookie dough by heaping tablespoons onto the prepared cookie sheets and bake for 15 to 20 minutes, or until the cookies are browned around the edges.
8 – Remove the cookie sheets from the oven and let them rest for 2 minutes. Take the cookies off with a spatula and cool them on wire racks.
Recipe courtesy of George Duran
If you make Taylor's pumpkin chocolate chip cookies send us some to MP! Towers and we'll give you all the high fives, or just send us a snap to @maximumpop, happy baking babes.