Our girl T Swizzle will be a guest on our favourite talk show today! Yup, Taylor Swift and Ellen Degeneres will be hanging out for us all to watch.

Remember when Ellen scared Taylor so much she fell to the ground or when Taylor and Zac Efron sang Ellen a song? It's time for all of these things to happen again and more.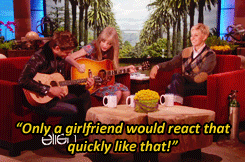 We can't bloomin' wait. Make sure you check back here tomorrow to see everything that went down.