So… don't know if you know about this, but a little feud is kinda going down on Twitter right now. It's pretty low key, so just to sum up.
When Kanye West released the single, 'Famous', from his latest album 'The Life of Pablo' it reignited a long-standing feud between him and Taylor Swift. She was offended by the lyrics of the song which read, "I feel like me and Taylor might still have sex. Why? I made that bitch famous". Quite rightly so Taylor Swift was offended by these misogynistic and quite frankly incorrect lyrics (Taylor was already hugely famous before Kanye interrupted her acceptance of the award for Best Female Video at the VMAs).
However, Kim Kardashian posted a crypic tweet with a hidden attack against Taylor on Monday.
https://twitter.com/KimKardashian/status/754818471465287680
The shade of it all.
She then posted a video showing that Kanye did actually phone Taylor to run the line, "I feel like me and Taylor might still have sex", by her and she gave her consent.
Taylor then replied with this message.
That moment when Kanye West secretly records your phone call, then Kim posts it on the Internet. pic.twitter.com/4GJqdyykQu

— Taylor Swift (@taylorswift13) July 18, 2016
We are not writing this post to take sides. No bad blood here. After all, the public probably still don't know the whole story, nor the main players' motivation behind their actions. However, we do support Taylor's BFF, Selena Gomez, with her mature viewpoint on this messy situation.
There are more important things to talk about… Why can't people use their voice for something that fucking matters?

— Selena Gomez (@selenagomez) July 18, 2016
TRUE DAT, SELENA! The media have completely set upon Taylor and you would be forgiven for forgetting that she is, first and foremost, a musician. It's sad that her celebrity has grown to such a level that people are looking for any excuse to take her down. We think that it's important to remind everyone of why we should all love and appreciate Taylor Swift. Swifties, this one's for you!
1) She's been there for us in our darkest moments
Remember when you had a crush on that boy in high school and he ended up shattering your heart into a million pieces? Taylor was there with 'Fifteen', a song containing a shocking amount of wisdom considering her age when she wrote it.  She taught us that time heals everything.
2) She taught us to believe that fairytales come true
Heartbreaks happen, but a fairytale romance is worth the risk. Those goosebumps you felt when you saw Taylor and her love interest finally be united in the music video for 'Love Story' are still there today.
3) She taught us that love is all around us
Never give up trying to find that beautiful, perfect romance and don't forget that it might be right under your nose.
4) We can't count the times that she taught us that haters gonna hate
We can take a hint.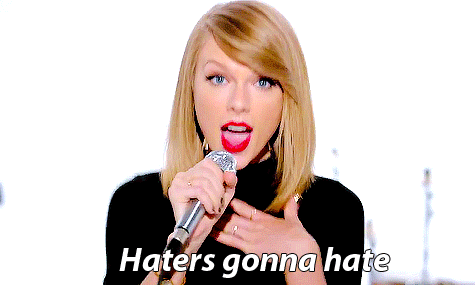 5) She makes fun of the haters, instead of taking their words to heart
Kimye, T-Swizzle got a blank space… and she WILL write your names. 6) She's not afraid to act her age and make mistakes LIKE EVERYONE DOES!
If Tay Tay's feelin' 22, so are we.
7) She's indestructible
So Swifties, don't you worry your pretty little minds because people throw rocks at things that shine and Taylor Swift will begin again because she will never go out of style. In the end, people who are hating on Taylor are just missing out on her sick, sick beats.
And that, Swifties, is all anyone should care about. Tweet us @maximumpop if you agree.