We at MP! are head over heels in love with the touching 'We Are All Made of Molecules', so we were thrilled to have a little chat with author herself, Susin Nielsen, about all the highs and lows of writing 'Molecules'. From her reasoning behind having such a distinct family dynamic to her gorgeous TBR list, we're pretty much in love with her now – and you should be too!
Tell us the plot of 'We Are All Made of Molecules' in the length of a tweet. When their parents fall in love, polar opposites Stewart & Ashley are forced to live under one roof. Complications & malapropisms ensue.
What was the hardest part about writing 'Molecules'? Like all of my books, I really didn't know where the story was going to take me. I knew it was about a blended family, and would have two narrators. In some ways it was an easier novel to write than 'The Reluctant Journal of Henry K. Larsen' (which I wrote before 'Molecules') because 'Molecules' was somewhat lighter fare. The hardest part was balancing their two voices; first, making them each very distinct, but also, being able to break them down into alternating chapters. Making sure I wasn't just re-telling information, but putting a fresh spin on things, and still advancing the story, in each alternating chapter.
What's the best piece of writing advice you've been given? Two things immediately come to mind. One is from Anne Lamott's excellent book, 'Bird by Bird'. She talks about "the shitty first draft." Every single author writes a "shitty first draft" – and that's okay! Because it is part of the process. Laying out that first pass at the story is seriously heavy lifting. Then, you can go back in and rewrite (the part I always like). I think all aspiring writers need that drilled into them, so as not to get completely discouraged.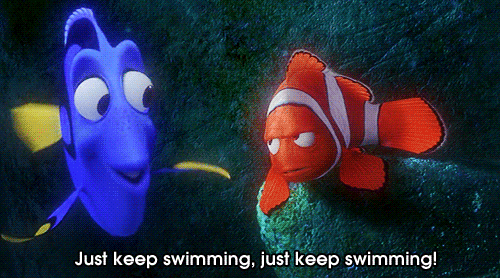 The second is a saying I'm going to butcher, and I'm not sure who said it first, but it's basically "put your bum in the seat." I get irritable when the odd someone tells me "oh I'd like to write a book one day, if I ever have the time." Like authors do what they do because they're twiddling their thumbs. Writing is a job like any other, a job that happens to involve more than its share of self-discipline. If you wait for the "muse" to strike, you could wait forever. So I think of that line a lot, especially on mornings when I want to do anything I can to avoid putting my bum in the seat (which quite honestly is often!).
If you could choose one book that everyone had to read, what would it be? 'Harriet the Spy' by Louise Fitzhugh, published over 50 years ago. This is such an awesome book on so many levels. She put strong young female protagonists on the map. Harriet is so flawed and sometimes very mean. I just adore that book. I read it at about age 10 and read it again a couple of years ago, and was astounded at just how much Ms. Fitzhugh had influenced my own writing. It's not a perfect book or a perfectly structured book, but it is so fresh, so original and so from the heart.
You focus a lot on family relationships in your novels. Why do you think they're so important in YA? Well, I never really think of them in terms of being "important to YA", because I just write what I want to write… but I think family relationships resonate in YA because every single young person has some sort of family, and usually some sort of dysfunction within that family! And of course when you're young, you're stuck with those people and those dynamics, for better or worse. In my case I write a lot about different types of families, probably because my own background involved growing up with a single parent mom, divorce, not meeting my dad (and half siblings) till I was a teenager, later on getting four stepsiblings and a stepfather… Phew, I'm exhausted just writing all of that down.
If you don't mind, send us a pic of your bookshelf! We're always looking for book recs! Sure thing! Maybe what I'll do is send you a pic from of all the "next up" books for me, how's that? I just celebrated my birthday and got a bunch of books, YAY!
Doesn't knowing how lovely Susin Nielsen is make you want to rush out and buy 'We Are All Made of Molecules' right now?! You can grab a copy for yourself here.
Already read and loved this fab book? Let us know @maximumpopbooks!