This week's MP! Style Recap saw some of our fave stars battle it out to win the Insta-style crown in our sparkling red-carpet AMAs edition – but who managed to come out on top?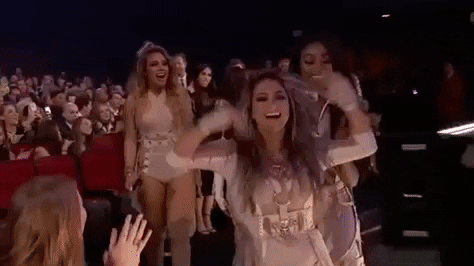 With 219 votes, it's FIFTH HARMONY!
After winning 'Collab of the year' for 'Work from Home', they can add the MP! Style Recap trophy to their growing AMAs collection.
As per usual, the girls absolutely SLAYED on this year's AMAs red carpet (but then again, have they ever looked anything less than increds?)
True to our promise, we've found a load of similar looks on the internet, so you can steal the girls' style at a fraction of the price. This week you're getting 5 outfits, as opposed to the usual one. You lucky lot.
ALLY
BOOHOO KIRSTY-ANN SLINKY CUTOUT THIGH SPLIT MAXI DRESS – £15.
LAUREN
NaaNaa Plunge Front Strappy Maxi Dress With Open Back – £22.
CAMILA
ASOS Wrap Front Frill Maxi Dress – £26.
DINAH-JANE
LIPSY LOVE MICHELLE KEEGAN LACE DETAIL PLACEMENT MAXI DRESS – £75.
NORMANI
MORGAN BLACK BANDAGE CUT OUT MINI DRESS – £20.
Which 5H member's look are you dying to get your hands on? Were you overawed with Camila's look or Lauren's dress? Leave a comment below and let us know!