If this was your 2017 resolution then we're sorry to break the news but unless you were at the Super Bowl Sunday weekend bash then you've already failed.
I want for 2017 is to: pic.twitter.com/jQNOp1mYZd

— Taylor Swift Factsㅤ (@blessedswifty) January 29, 2017
WE'RE HEARTBROKEN. Haven't you heard why yet?!
Sorry Taylor but…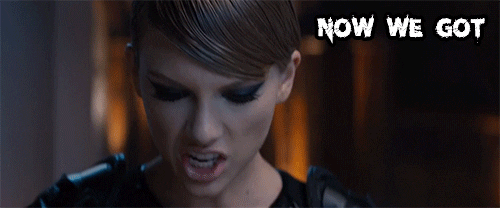 JK, JK. We know Tay-Tay is hard at work writing her next album and we can hardly blame her for being so overworked she just can't cram in any other live shows – but that doesn't mean this news hasn't ETERNALLY DEVASTATED us.
---
Ed's Sheerios call him out for being arrogant and we are in shock!
OMG you will feel so old! This kid's impression of fetus Taylor Swift is the best kind of nostalgia
---
Speaking between songs on Sunday, she revealed all about her current 2017 tour plans:
"As far as I know I'm doing one show in 2017, and as far as I know this is that one show. […] By coming here tonight you are essentially attending 100 percent of my tour dates for the year."
Yep, that's our hearts cleanly snapped in two then.
Watch her speech in full here but get the tissues ready because this brutal reality will have you weeping just as hard as we are right now.
"As far as I know I'm doing one show in 2017, and as far as I know this is that one show." #SuperSaturdayNight pic.twitter.com/w0bOR9NLu2

— Taylor Swift News (@TSwiftNZ) February 6, 2017
Of course, in true Swiftie fashion, fans took to Twitter to express how the Taylor-shaped hole in their heart ached:
https://twitter.com/avaml8/status/828702662434684928
today is a sad taylor swift day

— kara (@rolyatarak) February 6, 2017
Im so happy cause taylor performed and sad cause its the last show for 2017 how is that even possible?! GAAHDDD

— Taylor Swift (@taylorswift1t3) February 6, 2017
no offense but how is 2017 going to be a good year if i don't attend a taylor swift concert

— susan (@sortasusan) February 5, 2017
While we wait for her to finish up her next album, which'll no doubt blow our socks off, we'll just stick to listening to '1989' on repeat, yassss.
Are you going to keep the hope that Taylor will schedule in more tour dates later in the year? Let us know where you want her to visit in the comments below.