We love 'Blue Neighbourhood' but if you've done Troye Sivan's album to death, we've got another life-affirming, rebel-rousing, hands-in-the-air LGBT anthem from up-and-coming Russian/British songstress Shura.
In case you haven't heard of Shura let's have a quick recap.
Her stage name Shura isn't just a swishy, cool hipster name. It's actually a Russian nickname for the name Alexandra.
She wasn't born in Russia, but her mum is from there and Shura does speak Russian. She doesn't speak like a Bond Villain though (sadly).
She was nominated for BBC's 'Sound of 2015'.
Her single 'Touch' has been viewed more than 26 million times on YouTube. DAMN!
She's just released the video for her new single 'What's It Gonna Be?' and it's the cutest thing ever. It's all about Shura and her twin brother's plot to gain the affection of their crushes (the description sounds more creepy than it actually is). It's actually sweet and romantic like the song itself and Shura and her brother are the ultimate team.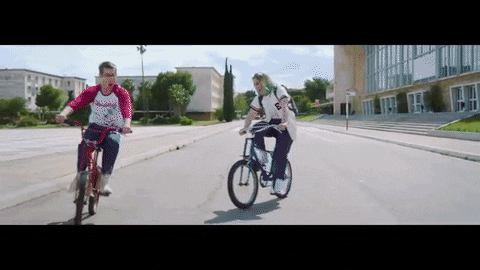 The whole thing is set at school where Shura and her brother play the nerdy characters, but they're in hot pursuit of a smokin' hot jock dude and a popular cheerleader type. It's not quite clear at first who is going for who but then you see it's actually like an alternative LGBT 'High School Musical' with the boys gettin' it on and the girls gettin' busy with each other. You'll be cheering when they finally kiss! MP! pinkie promise.
Basically, it's the dream  come true of every gay high schooler.
Tweet us @maximumpop if your dreams all came true at once while watching the video and also if you think the song's a banger (which is obviously is).