So we were already super jealous of Taylor Swift and Selena Gomez's amazing celebrity relationship. Taylena have managed to thwart all the odds and thrive where many pop stars' friendships (and even marriages) have broken down. But, after 10 years of being BFFs, they remain stronger than ever!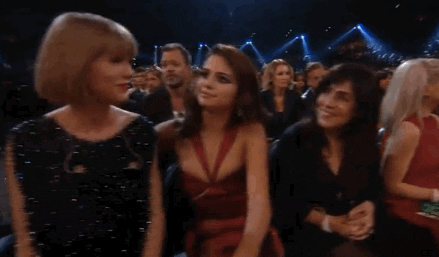 In an interview about Selena's upcoming 'Revival' tour she chatted about her friendship with Taylor, revealing that the last time she talked to Taylor Swift was just the day before. They caught up about Coachella and Taylor said she would be coming to see Selena on tour.
Taylor famously brought out special guests for her '1989' tour, including Selena in L.A. last August, where the pair performed 'Good For You'.
But it looks like we won't be seeing the pair on stage together again any time soon. Here's what Selena had to say about a possible duet:
"She knows that I'm busting my ass on this tour and I want to make it about me for now. She is super proud of me and stoked, so maybe one day! There's no better feeling that performing with your best friends. I mean I've known her for ten years, it's just the best feeling."
So looks like Taylor will have to keep her hands to herself for now, but there is a glimmer of hope! If the girls love performing together so much, it's sure to happen again someday.
Watch the full interview with Selena Gomez:
Does Taylena give you #squadgoals? Tweet us @maximumpop to let us know.