If we were to ask you who is REALLY behind Scream Queens' Red Devil, you'd probably say Hester, right?
Well, we've got some news for you, sunshine — YOU'RE WRONG.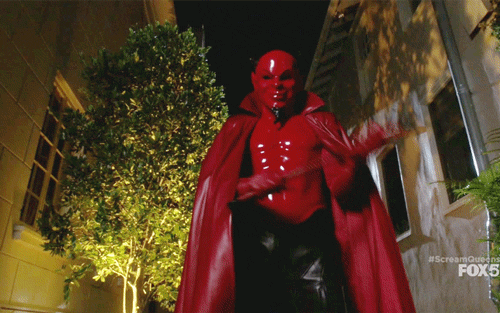 The mystery guy behind the red mask is actually actor Riley Schmidt, and he is dreamy AF. 
If you're a 'Scream Queens" fan, you'll know that Riley is pretty damn flexible, and he certainly knows his stuff when it comes to axe swinging. It'll come as no surprise, then, to find that Riley's a trained stuntman — and BOY is he good at it.
He s also *killed* Ariana Grande, but when he looks as good as this, we won't hold it against him.
And, as if that wasn't enough, it turns out that Riley is also behind 'American Horror Story's'  Rubber Man. Boy does he like his latex.
Totally in love yet? What if we were to tell you that when Riley's not being a super handsome stuntman, he's being world's cutest dad?
After having a good old browse on Instagram, we've found evidence that Riley will be back on our screens next year. He's not yet revealed exactly what he'll be appearing in, but we can tell you that he's dressed as 'Hot Doctor Jerry, and it'll be a Netflix show. We are already sold.
What show do you want to see the Red Devil himself appearing in next? Let us know by leaving a comment below!
WIN! BAG YOURSELF A COPY OF THE HOTTEST SERIES THIS AUTUMN PLUS A DVD PLAYER

QUIZ: WHICH CHANEL FROM 'SCREAM QUEENS' ARE YOU BASED ON YOUR FAVOURITE FEMALE SINGER?