We always like to know what the book blog world is saying about our favourite reads, and there is no exception when it comes to Rick Riordan's latest book, 'Magnus Chase and the Sword of Summer'. Sure, it's the best Middle Grade & Children's Book of 2015 according to Goodreads, and yeah, it's got a perfect 5 stars on Amazon, but STILL. We want the real, honest reviews from bloggers we trust.
Today, we're having a look at what Paper Fury and My Fangirl Life had to say about this new Norse adventure series.
My Fangirl Life started off the review with an acknowledgement of the situation Rick Riordan finds himself in when writing any new series: "The unfortunate thing for Magnus Chase is that he appears on our bookshelves with a distinct disadvantage. The fact is, he will always be compared to his "big brother" Percy Jackson."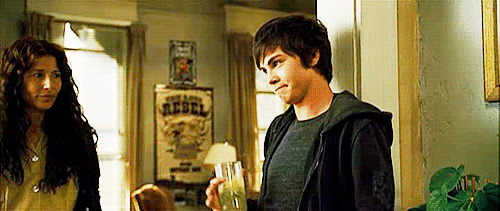 Paper Fury also noted this, saying, "There are similarities with Percy Jackson…but I didn't even mind! Usually it bothers me when I feel authors aren't being original enough, but I was TOO IN LOVE with everything about this book."
Next, let's talk humour. When reading 'Magnus Chase' don't prepare yourself for a doom-and-gloom GOT style adventure. Instead, you can expect to laugh. A lot. Paper Fury said, "That was HILARIOUS. Like incredibly, marvellously FUNNY. It's Rick Riordan, right?! So you expect to laugh so hard you choke…but I think Magnus Chase and the Sword of Summer is THE most funniest book he's ever written."
Obviously, 'Magnus Chase' deals with a completely new mythology: Norse, the gods of the Vikings. My Fangirl Life said, " Norse Mythology is super interesting, with very intriguing gods …but…
Reading books based on Greek (and even Egyptian) mythology was just easier."
However, Paper Fury seemed completely thrilled to meet these new gods: "The Norse gods are quirky and kooky. For instance: Thor is a TV addict. He bypasses crushing an enemy to catch up with Game of Thrones. And Odin sucks at giving speeches…"
Final word?
Paper Fury: "CAN'T WAIT FOR MORE MAGNUS CHASE. Also the cliffhanger is quite kind… so thank goodness. Basically this is the funniest book ever and I don't even know what you're doing with your life if you're not planing to read it. GO READ IT."
My Fangirl Life: All-in-all Magnus Chase was an awesome start to a new series, one that I will definitely follow all the way through.
You can grab a copy of this explosive new read right here.