Now it's September (and the bizarre post-summer heatwave seems to be well and truly over), the weather is feeling altogether more chilly, and it's totally acceptable to want to stay in and snuggle up with a good book.
And what's better to accompany said good book, than a foaming bubble bath and a scented candle? Nothing, that's what.
With that in mind, I decided to ditch my normal Saturday night antics in favour of an altogether more relaxing experience – a candlelit bath, courtesy of Zoella.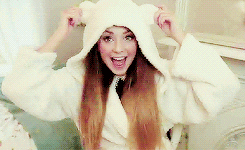 My chosen pamper products were Zoella's 'My Eden' candle, and 'Scooper Dooper' bath soak.
'Scooper Dooper' is a welcome update to Zoella's classic beauty collection.  As an unashamed bath addict, I'm very particular when it comes to my bathing products, so 'Scooper Dooper' was set for a BIG challenge.
I added a scoop of the pearly liquid to warm running water, and let it work its magic. The packaging promised a 'foaming' finish, and that's just what I got – LOADS of bubbles. Yassssss.
'Scooper Dooper's' scent also got a big thumbs up from me. Its floral notes make it sweet, but not sickly sweet.  I could really feel the soak's combination of Vitamin E, Aloe and Shea butter moisturising my skin, and it continued to feel soft and silky for a good 24 hours after.
If you're looking for a bath soak which will make you feel amazing, 'Scooper Dooper' is definitely worth a try (and, yes, it really is super duper).
To accompany my bath, I chose to try out the 'My Eden' candle. Every single scent in the lifestyle collection holds a sentimental value to Zoe, but 'My Eden' is her absolute FAVE.
The packaging itself is absolutely beautiful, and makes the candle a real contender for the likes of Yankee, Baies  and Jo Malone (plus, at £10, it's a steal).
If you're into your florals, then you'll love this scent. Its combination of fresh rose really works alongside notes of jasmine and geranium. And whereas some floral candles can be overpowering on the nose,  'My Eden' gets it just right; filling the room with a subtly dreamy midsummer fragrance.
This candle was the perfect accompaniment to my deliciously foamy 'Scooper Dooper' bath, and I can't wait to try out all the other candles in the range.
Zoella has been getting A LOT of stick for her lifestyle range lately, and if you ask me, it's totally unjustified. So what if she got 'Girl Online' ghost-written? She's a 26-year-old woman who has built a profile by putting her skills and passions into doing something she loves , and who can now financially support herself and her family. If you ask me, that's pretty cool, and I think we should commend ZS for her achievements, instead of slating her.
After trying her new collection myself, and having immersed myself in the #ZoellaApartment experience, I think it's pretty obvious that Zoe has had a HUGE impact on everything in her lifestyle and beauty ranges.
Every design, scent and product holds something sentimental to Zoe, and I think that once you get the chance to try the lifestyle and beauty ranges out for yourselves, you'll 100% agree.
Are you excited for Zoella's new collections to hit stores? Let us know by commenting below.
Both 'Scooper Dooper' and 'My Eden' will be in Boots stores soon.