When we realised that Grey Worm from 'Game of Thrones' was played by Jacob Anderson who is the same person as Raleigh Ritchie who releases really good music, we just had to speak to him! In our exclusive chat we find out which member of One Direction he thinks would be great in 'Game of Thrones', why he thinks Girl Power is more important than Boy Power and whether or not he turns into a Sasha Fierce-esque diva when he performs.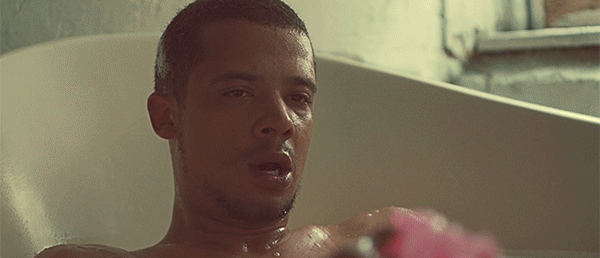 We're speaking to you about your brand new music video for 'Bloodsport' which has recently come out. How involved were you with the storyline of the video?
I wasn't this time. Shynola, who made the video sent me a treatment and it didn't need my input, it was perfect. It captured the mood of the song perfectly. We made Part 2 first and then we made the first one as a sort of prequel. They didn't need me though, those guys have got it covered. I feel proud to have them telling that story on my behalf. 
In the music video, we see you throwing out all of your ex's stuff and cutting up her clothes. This is something that we see more of in female videos, is this your way of showing Boy Power?
No, it wasn't a conscious thing like that. I think it's just something that people do sometimes. When a relationship ends you want to get rid of any trace of that person ever being in your life, so it was more about that than it was an kind of statement. There doesn't need to be Boy Power, unfortunately men have always seemed to have the upper hand, I'd advocate for Girl Power over Boy Power any day.
After you flush your partner's stilettos down the toilet, we see you rubbing them on your face. Did you wash them before you put them near your face because that can be very unhygienic?
Yeah, we washed them. I wouldn't be putting my face anywhere near anything toilet soaked. They were like a PVC type material too, so they were wipe clean.
Were you trying to be scary when you put the balaclava on because we're not too sure if a pink bobble hat would scare many people?
Not scary, no. The balaclava is explained in Part 2, but it's to do with being anonymous and taking on a different persona.
It's great to see a real storyline in your video instead of it being just a performance video shot in a studio. Do you think that the acting side of you influences how your videos have storyline?
Not really, no. I think it helps to know that there's a lot of waiting, I understand how a set works, but I will always prefer a video with a storyline than a performance video. I think a video is an extension of a song and I don't really know what a performance video adds to a song.
'Bloodsport' first became a fan favourite in 2013 when it appeared on your 'Black & Blue' EP, why has it taken this long for it to become a single?
I think it's largely because my album is close to being released now so we're starting to put album songs out as singles and we'd done some work on the production and a small amount the vocal. That song has always been a song we wanted to go back to. I'm really proud of it.
Raleigh Ritchie is the persona that you undertake for music whereas Jacob Anderson is the name you use for acting. Do you turn into some kind of Sasha Fierce superstar diva when you're Raleigh?
No. That would be pretty great though. I'd be fine with that happening, but Raleigh Ritchie is 100% me, there's no persona. It's just the name I release my music under.
You – or Jacob – are currently starring in HBO's mammoth 'Game Of Thrones' series. We imagine it's an exciting series to film, is it a lot of fun to be part of?
Yeah it's great fun. Everybody is approachable and kind and talented there. Nothing I've ever worked on could compare to it really. It's a proper joy to get up in the morning and find myself there.
Congratulations for not being killed off yet. What do you think it is about your character that makes people want to keep watching?
I'm not sure it's my character that keeps people watching, I think it's the whole thing just being really good. I'm really glad people have taken to him though and obviously that he's not dead… Yet.
One character that has been killed off is Jon Snow. Have you seen this mock-up of Harry Styles and Liam Payne that looks exactly like Jon?
I've never seen that before, it's pretty close.
What do you make of it?
Yeah it's good… It's all in the hair isn't it.
Which member of One Direction do you think would make the best Game of Thrones cast member?
Louis Tomlinson could be in the Night's Watch.
What's next for Raleigh Ritchie?
I've got my UK Tour beginning of October and another single after that I guess, then the album will come out some point. I've started writing the next one already.
And what's next for Jacob Anderson?
Hanging out with my girlfriend. Catching up on Netflix. Getting drunk.
'Bloodsport' is out now and available to buy here. Tickets for Raleigh's October 2015 tour are on sale now.