We love going to bookish events but sometimes the struggle is REAL. Whether it's missing out on meeting our fave author in the local Waterstones, having too many books to carry or failing to get tickets we feel you, MP! book nerds. We understand.
Here's 16 of our biggest problems with book events. Got any more? Add your own in the comments below.
1. That feeling when everyone on your Twitter feed is going to an event but you're not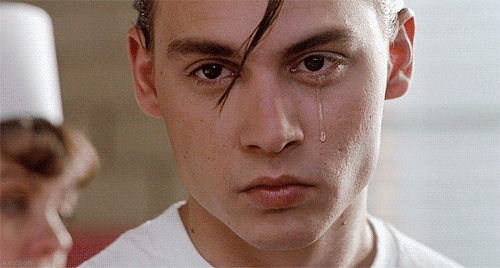 The tears are REAL. Nothing upsets us more than seeing all our bookish pals heading off to meet our faves while we sit at home and cry over our bookshelves.
2. Not knowing which events you'll find your friends at
Like sure, you could just ask them all or send out a tweet but that's so, so much effort.
There's no greater devastation than deciding not to go to a signing because you think you'll be lonely only to find out the day after that at least 10 people you knew were there. Damn.
3. Wanting to take every book an author has ever published to get signed but having 0 arm strength
https://twitter.com/bookclubforum/status/621641426082729985
Legit, our arms do not have any muscles! We cannot cope!
4. … And wanting to take all your friends' books to get signed too, plus one for your cat, just because
More books = more time chatting with the author, right? We could stand there for hours tbh with arms full of books in pure, unadulterated HEAVEN.
5. Not knowing whose signing line to visit first
Rainbow Rowell or Holly Bourne?
(Psst, see where Holly Bourne is visiting on tour this month.)
6. Having too many bookish friends and not enough time to meet up
We have far too many bookish friends and honestly not enough time to see them, chat to them and gush about books with them as we would like. Between travel and the actual event we're left with barely any time at all to catch up on all the bookish goss.
Good job we've got Snapchat. All our bookster faves are on there, from Sanne (booksandquills) to the authors themselves like Alwyn Hamilton. Find everyone in our Snapchat Directory.
7. When someone gets that last bit of bookish swag that you REALLY wanted
We know the feeling.
8. Trying to explain to your non-bookish pals why you'd be willing to queue at a signing for hours
It's worth it, m'kay?
Least you can get some reading done whilst you wait, anyway. And we would 10/10 recommend Non Pratt's totes emosh 'Unboxed' for this kind of quick reading.
https://twitter.com/ninadouglas/status/786649260364267520
9. Having to stop reading to attend
Yeah, yeah, we may be swapping out the newest Amie Kaufman and Jay Kristoff 'Illuminae Files' for an event filled with books, authors, bookish people and all the book bantz but reading time is precious. Duh.
10. Not being able to choose between panels at a big event
We're bad at decision making, really bad. We can't pick which signing queues to join first (knowing we can get all the books we want signed) never mind sign our soul away and possibly miss out on something as awesome as Lucy Sutcliffe and Juno Dawson together in favour of an (equally awesome, tbh) other panel.
We can't choose our faves. That's like asking us to choose a favourite CHILD. Remember, our books are our babies.
11. Having to make the executive decision between food or books at an event
Bet you can guess which one always wins out.
12. Feeling the serious temptation of the pretty book sale stands
At the Rachel Cohn and David Levithan event last week we almost lost our entire wallet to the pretties. Especially thanks to this top notch arrangement from the bookseller. GORGEOUS.
We're at @GenesisCinema for the Nick and Norah screening + @rachelcohn and @loversdiction Q&A📚💖 Check out this gorgeous book display! pic.twitter.com/csWt5Wmujt

— Maximum Pop! Books (@maximumpopbooks) October 13, 2016
13. Coming back from the event like this
We all spent way too much on the books. They were too difficult to resist, let's be honest.
14. But also like this…
At least we're getting a workout. All those books we bought aren't going to carry themselves.
15. Coming away from a panel event with a TBR longer than your arm
If you hadn't thought about reading all the authors on the panel beforehand well, now you're obsessed.
How quickly can we get them delivered?!
16. But the worst of the lot – missing an event because you didn't know it was happening!
Don't worry on this one MP!ers: You're in luck. The brand spanking new Book Events site from Maximum Pop! will set you well on the way to never missing a single thing again.
For instance: want to know what Holly Smale is up to? No problem at all, check out her signings and events. Want to know what festivals are going off in your area soon? Here you go.
Sign on up and get involved – it's as easy as pie.
And you can also follow friends and see what they're doing and where they'll be going. You'll never miss a single thing again!
Let us know in the comments if the MP! Book Events site is right up your alley because it sure is up ours. And don't forget to comment your top "problem" with book events too.