Despite the Mount Everest of wrongly-labelled hangers, and the prospect of spending a good 198 years queuing in Caribbean levels of heat, we love Primark, and we can't get enough of it.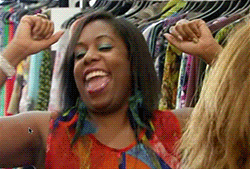 For the unseasoned Primark shopper, this can be a confusing concept, and we totally understand. But when you see Primark's brand-spanking-new autumn collection, all of the store's downsides will vanish into oblivion.
Not only are all of the pieces super chic (you'd never know they're Primark), but everything in the collection also costs UNDER £30. All of a sudden, the hanger debacle doesn't seem so bad.
Selected items from Primark's AW16 collection will begin to drop on September 12 (that's a week today, FYI), and the brand will continue to launch products throughout the autumn months.
With 7 days left to wait, we thought we'd whet your appetite with a few of our favourite products from the upcoming collection. We should probably warn you that you'll probably want everything – but at such FAB-U-LOUS value, you can afford to treat yourself.
Leopard Print Coat (£25),  Metallic Pussy-Bow Blouse (£12), Patent Chain Skirt (£12), Silver Boots (£12)
Faux Leather Jacket (£23), Jumpsuit (£16), Scarf (£4), Metallic Heel Boots (£18)
Floral Slip Dress (£13)
Velvet Jacket (£18), Velvet Trousers (£13)
Victoriana Blouse (£10)
Faux Fur Collar Coat (£30), High-Neck Jumper (£10), Slip Dress (£18), Shoes (£14)
Cropped Patchwork Jeans (£15)
Luxe Backpack (£10)
We told you you'd want EVERY-THANG.
Is there anything in particular you're dying to get your freshly-manicured hands on? Let us know what's on your list, by tweeting us @maximumpop.